The customer wanted an additional porch frame installed at the front of their period property in Cobham in Surrey, to create a practical porch area at the entrance area.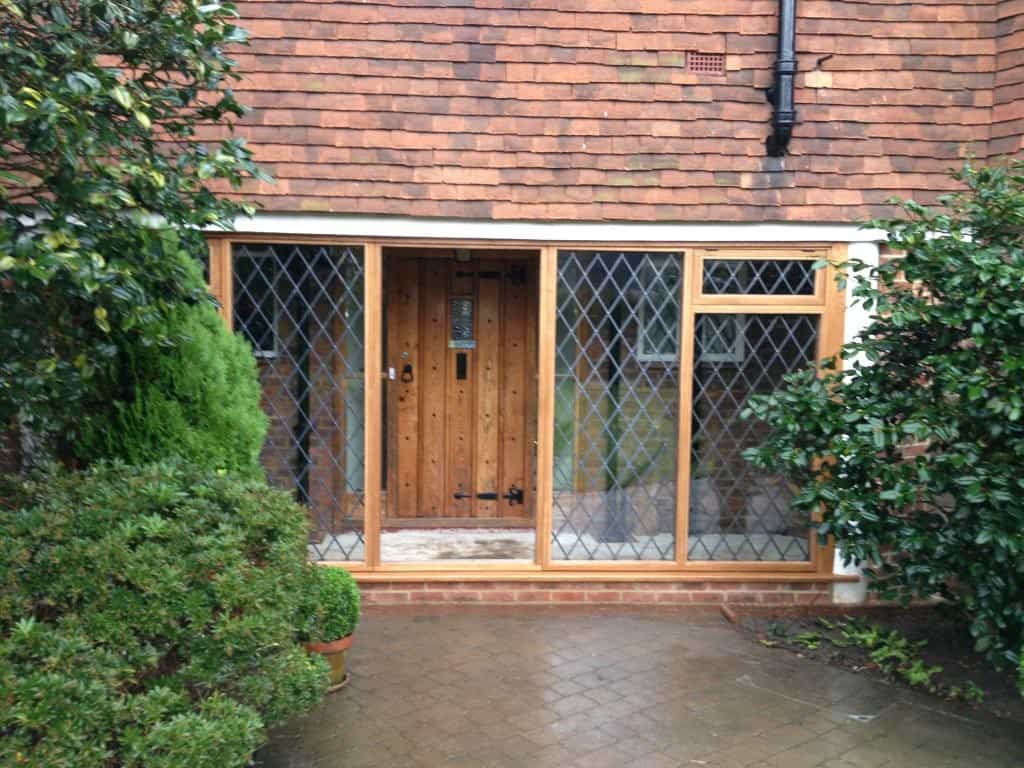 The porch had to be in keeping with the older property so we fitted 90mm thick European solid Oak frames with a pencil edge moulding.
The frame was fitted with clear toughened, energy-saving glass with attractive period style, diamond leaded lights.
This character property had single glazed timber windows which had rotted and were now insecure and let in the cold.
The owners wanted to replace with something more energy-efficient but in keeping with the style of their property.
We fitted 10 new A-rated, energy-efficient uPVC windows in standard white with fully sculptured framing and Rosewood colour uPVC external cills.
The uPVC windows were finished off with black monkey tail handles and 24mm surface mounted Georgian Bars.
This created more of a period finish for this older property.
This recent customer had a fantastic bar/entertainment room in the garden of their large property.
The existing windows and French Doors were cheaper wooden ones and they were starting to degrade and rot.
They had planned a garden party and wanted to give the garden room a make-over for a smarter, fresh look.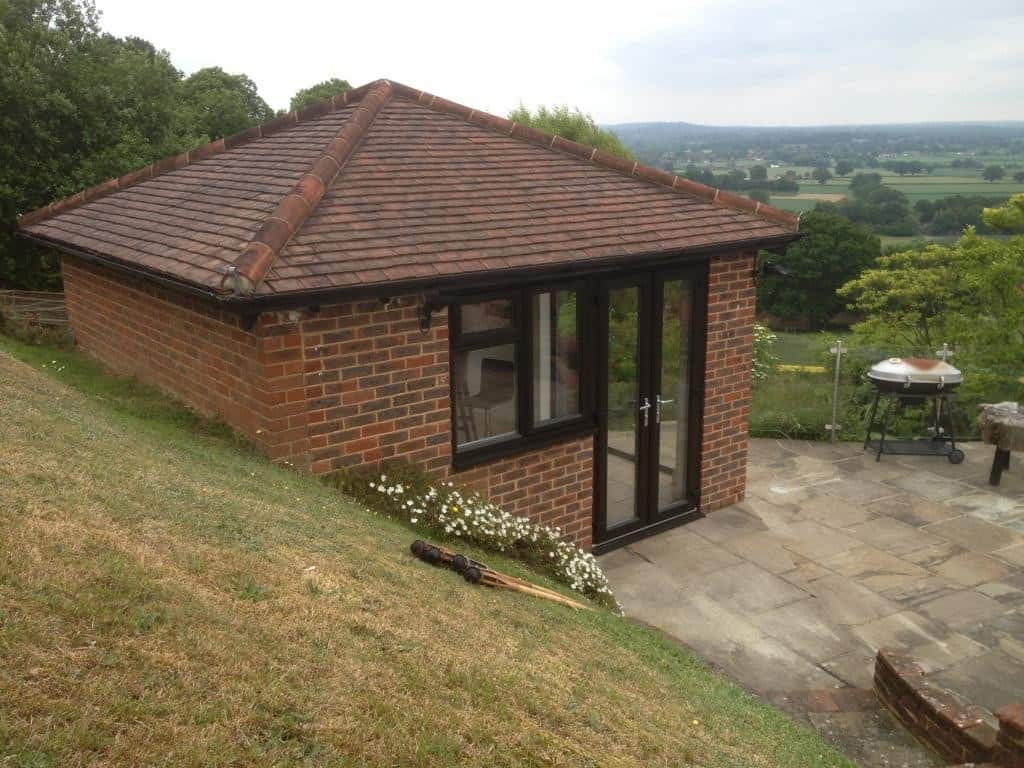 We supplied and installed three new windows, one single entrance door and one pair of French Doors.
The windows and doors are A-rated Black/Brown uPVC chamfered frame Liniar profile.
This new loft conversion was carried out by House of Building who are based in Reigate in Surrey.
We supplied and installed rear dormer with one window for the new master bedroom and one window in a new en-suite bathroom.
The customer wanted the new uPVC windows to look similar and in keeping with the vertical sliding windows in the rest of the property.
The new uPVC windows were split horizontally halfway down, with only the top half opening.
The new windows were white uPVC Liniar profile A-rated, with fully sculptured suite and surface mounted Georgian Bars.
Replacement uPVC Coloured Woodgrain Door, Surrey
The existing front door at this property was single glazed and was draughty, cold and was not very secure.
The property was a turn of the century and the brick opening was very small. The customer wanted something similar to the original door which was painted blue.
Unfortunately, GRP fibreglass front doors are not available in such small door widths so a coloured woodgrain uPVC door was the only option.
We supplied and installed a blue woodgrain uPVC front door with chrome handles and a white uPVC outer frame.
The existing door was a modern GRP composite door installed about 11 years ago. The door was installed badly to start with and our customers had always had problems with it.
The locking mechanism had broken and needed replacing so the customer decided to put the money towards a new, more secure and easy to maintain, front door.
The end of terrace Victorian property was fitted with a black GRP composite front door with fixed top light glazed with sandblasted (satin) glass. The fixtures of ponytail knocker, letterbox the number 1 and handle are all in a chrome finish.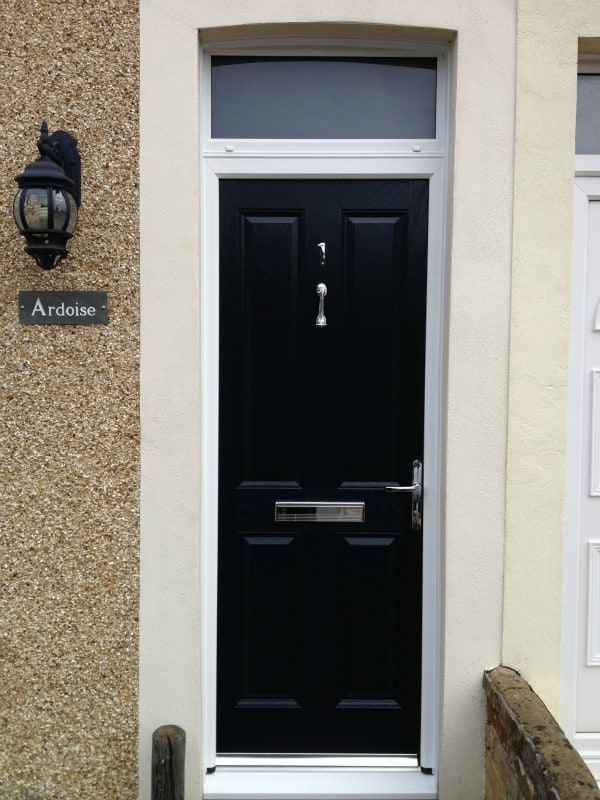 The customer's comments:
"We are very pleased with our new front door."
The customer in Brockham, Surrey had an old timber entrance porch which was single glazed and unfortunately, it had started to rot. It also leaked in places. Not an ideal situation.
We supplied and fitted new white uPVC, double glazed windows, a uPVC door and roof frames with black uPVC trims to imitate the original black painted timber posts.
It can put some customers off if they have a character or period property when considering using uPVC, as they feel it will spoil the look of their property.
But there are so many uPVC window and door options we can recommend, in terms of glass, window and door furniture and finishing touches – that can look as if they are the original hardwood alternatives but without the heat loss and high maintenance!
The existing windows were timber vertical sliders which were starting to rot and were very draughty and unsecure.
Our customer wanted a low maintenance, secure, thermally efficient window that was in keeping with their period property.
We supplied and installed three double glazed, uPVC vertical sliding windows with decorative horns which are exactly the right style for this Georgian style property.
The existing windows were black painted timber. They were double glazed with very thin sealed units and were extremely draughty.
The doors were the only exit from the lounge onto the patio area and the doors were difficult to open and close.
Our customer wanted new French Doors and a window which were warmer worked in all weathers and required less maintenance.
We supplied and installed Smarts system double glazed, glass sealed units – one window and French Doors in blackout, white in powder-coated aluminium.
Our customer's existing windows were single glazed, leaded light steel frames set within white painted hardwood sub-frames. The steel windows were rusty in places, difficult to open, thermally very inefficient, and were not very secure.
We fitted blackout/white in, thermally broken powder coated aluminium window inserts within the existing timber sub-frames with leaded light effect, double glazing with a layout to match the remaining windows.
So the customer could benefit from the improved security and energy efficiency whilst still retaining the overall look of their period property.
This is an important consideration if you have an older property and wish to retain its character.