Weybridge Flat Roofs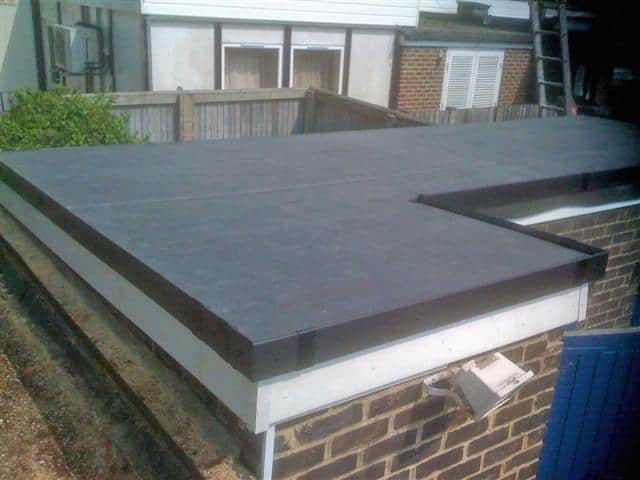 Dorking Glass Ltd has been supplying Local & affordable expert roofers close by your home for several decades and has been in business since 1939. We offer an award winning roof replacement or repair service. We have a flexible team and are available at short notice.
All labour and materials are included in the price. 10 year guarantees Whilst we can guarantee new roofs and builds in Weybridge and Cobham.
Flat EPDM Flat Rubber Roofs are becoming an increasingly popular roof solution for homes in Weybridge and the rest of Surrey. Roofs offer a wealth of benefits, including:
Cost-Effective. Unlike a traditional roof, a flat rubber roof is comprised of inexpensive material, lowering the overall costs. Once installed, the maintenance costs are far lower than a tiled roof.
Eco-Friendly. EPDM roofing is generally considered one of the most environmentally friendly materials available for roofing. EPDM rubber can be made up of recycled materials, meaning that your new roof could be sustainable and eco-friendly.
Incredibly Durable. EPDM Flat Rubber Roofs are durable and built to last. Unlike traditional roofs, a flat rubber roof doesn't require constant maintenance. If the roof is compromised by a leak, a flat rubber roof is inexpensive and easy to repair.
Flat Rubber Roofs are widely versatile because of their weight. We can apply a flat rubber roof onto sheds, extensions or across a roof deck without having to assess the structural integrity.
A Friendly, Family-Run Business available in Weybridge
We are dedicated to offering a quality job at a fair price. With many years in the roofing/building industry, you can rely on us to provide an honest, reliable, professional service for your Weybridge home.
Our recent projects
As reviewed and highly rated on Checkatrade – see our latest reviews.

To find out more about a quotation or to book a site visit or survey, call 01306 882971 for more details or click here to contact us.