Tag Archives: white
Our customer had a blank wall in their main bedroom and wanted a set of French Doors, opening side windows and a Juliet balcony.
We supplied and installed white uPVC fully sculptured Liniar profile A-rated, double-glazed French Doors and two tilt and turn windows featuring shaped head frames. Both were glazed with clear toughened glass.
The block of flats was built approximately three years ago and the builder had installed a cheap residential grade entrance door which was not substantial enough for the amount of use required.
We removed and disposed of the existing door and installed a high quality commercial aluminium door retaining the existing uPVC side frames.
The new entrance door specification was white powder-coated commercial aluminium framing with clear toughened double glazing.
An electric latch release entry system (connected by another supplier) and a concealed overhead transom closer.
The existing windows were timber vertical sliders which were starting to rot and were very draughty and unsecure.
Our customer wanted a low maintenance, secure, thermally efficient window that was in keeping with their period property.
We supplied and installed three double glazed, uPVC vertical sliding windows with decorative horns which are exactly the right style for this Georgian style property.
Our customer had single glazed timber windows and French doors which suffered from condensation and were draughty and cold.
The windows and French Doors were in their main bedroom and they wanted to replace them so they were warmer in the winter months.
The windows had Georgian Bars which were extremely time-consuming to rub down and re-paint and the customer was keen to reduce the amount and cost of maintenance on their older, period property.
We supplied and installed white Liniar uPVC A-rated double glazed windows and French Doors with chamfered framing and surface mounted Georgian Bars.
The French Doors had attractive gold coloured handles.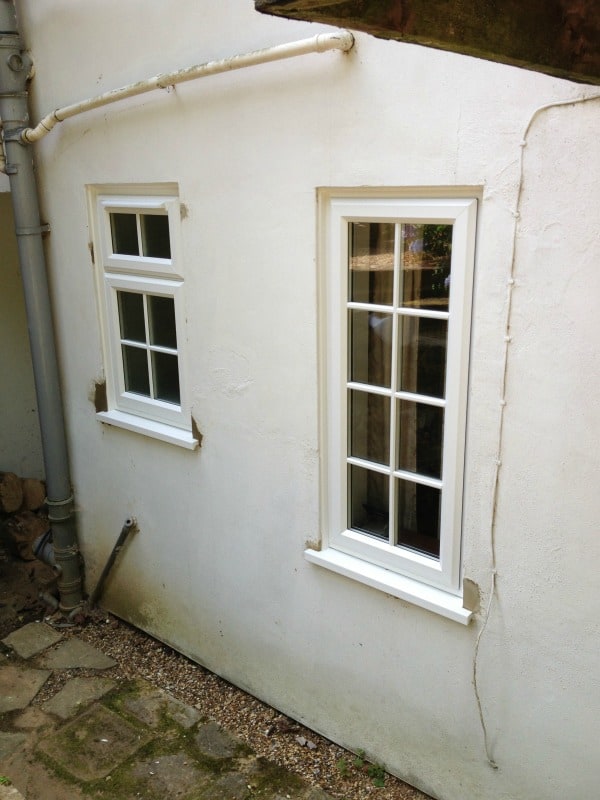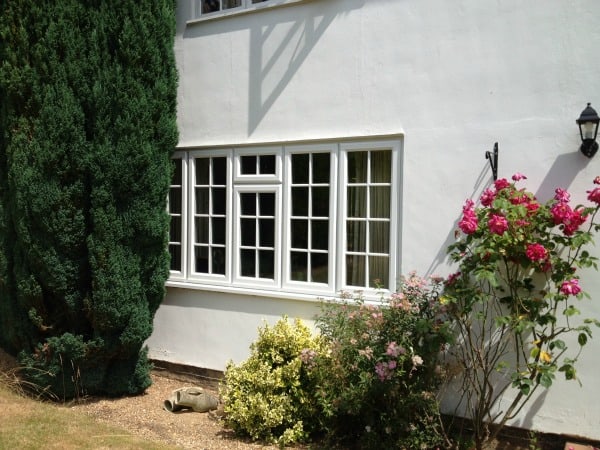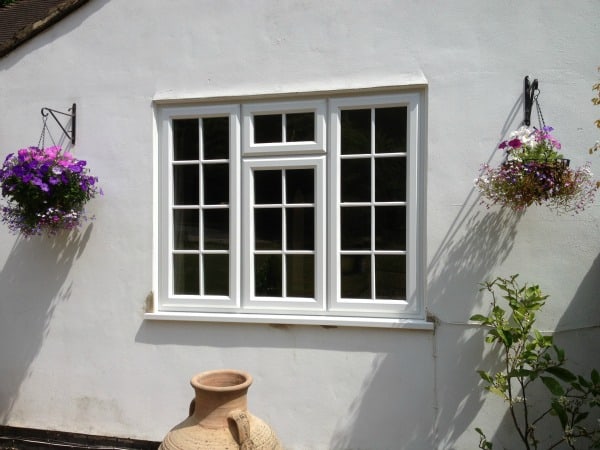 Our customer wanted a porch installed to enclose their front door area.
They wanted to eliminate draughts, increase security and have somewhere dry to keep umbrellas and shoes. A very handy addition to many homes.
The new porch was designed to line through with the existing bay window. This created a neat and visually appealing front aspect to the house.
We supplied and installed a white uPVC Swiftframe profile entrance door with bevelled frame and beading.
The front door had white uPVC decorative panels in the lower sections and clear toughened glass in the upper sections for the extra security our customer desired.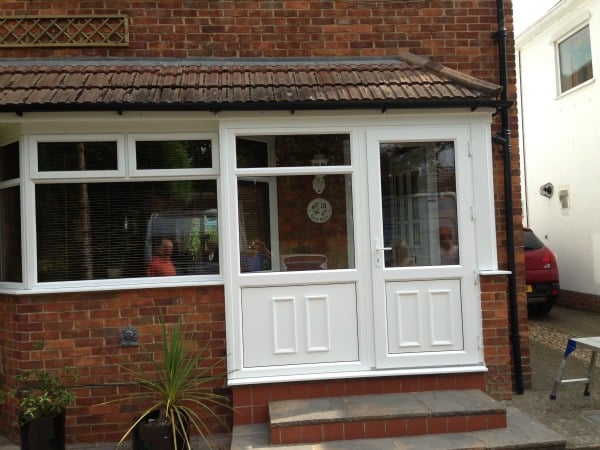 Our customer had this to say:
"We couldn't have asked for a nicer bunch of guys. They were very polite, informative and skilled! The porch is even better than we expected. Thank you."
Our customer had three single glazed, timber windows which were draughty and thermally inefficient.
He was refurbishing the inside of the property so it was a good time to replace the external windows with more modern uPVC window units.
We supplied and installed energy-efficient double glazing – three white Swiftframe profile, uPVC windows with bevelled framing and beading.
The double glazed windows had dummy casements for equal sight lines, 18mm white internal Georgian Bars and 4,000 trickle vents in the casements for background ventilation.
This customer had an old uPVC door which had never worked properly.
The frame had been installed out of square so closing and locking the back door had always been difficult and it was very draughty.
Our customer wanted a like-for-like replacement in terms of design but with a high specification and installed properly.
We supplied and installed a white Liniar profile uPVC door with bevelled beading and framing.
The door has 18mm internal Georgian bars with clear glass, a multi-point hook locking system operated by a white handle.
We also installed a black cabin hook to enable the customer to keep their new back door open safely and securely.
Our customer was having a new kitchen fitted but wanted to change the layout by having French Doors opening directly onto her patio.
A common desire to open out your kitchen into your outdoor space and make the most of your garden!
The brickwork was ground out below the existing window and the window was removed. We then installed the new uPVC French Doors, sinking the cill and threshold as low as possible into the floor to reduce the step height.
The white Swiftframe double glazed, uPVC French doors had bevelled framing and beading with internal 18mm white Georgian Bars and white handles.
We made good the external render and the customer had booked a plasterer to make good the inside next to the doors.
The customer in Brockham, Surrey had an old timber entrance porch which was single glazed and unfortunately, it had started to rot. It also leaked in places. Not an ideal situation.
We supplied and fitted new white uPVC, double glazed windows, a uPVC door and roof frames with black uPVC trims to imitate the original black painted timber posts.
It can put some customers off if they have a character or period property when considering using uPVC, as they feel it will spoil the look of their property.
But there are so many uPVC window and door options we can recommend, in terms of glass, window and door furniture and finishing touches – that can look as if they are the original hardwood alternatives but without the heat loss and high maintenance!
The existing windows in this detached house in Dorking, Surrey were softwood, they hadn't rotted (yet!) but they needed painting.
The windows were glazed with very thin double glazed sealed units which had started to mist up.
Our customer wanted warmer, more secure windows with much less maintenance!
We supplied and fitted nine windows with white Liniar A-rated, double glazed, uPVC windows with dummy casements for equal sight lines and large head frame with 4000 trickle vents.