Tag Archives: rosewood
The windows in this terraced house in Tadworth, Surrey were draughty and needed replacing.
The customer chose Rosewood out/white in uPVC windows with Liniar profiles and we supplied and fitted six of these windows to the property.
The house now benefits from energy-efficient double glazing for improved warmth and security.
Fascias Reigate, Soffits Reigate and Guttering Reigate.
The customer in Reigate had a detached garage which had timber fascias and soffits which were not rotten but needed painting.
Our customer wanted a low maintenance alternative which was in keeping with the style of the property.
We supplied and fitted rosewood colour uPVC fascia boards, white vented uPVC soffit boards and brown half round deepflow uPVC guttering which was perfectly suited to the style of property.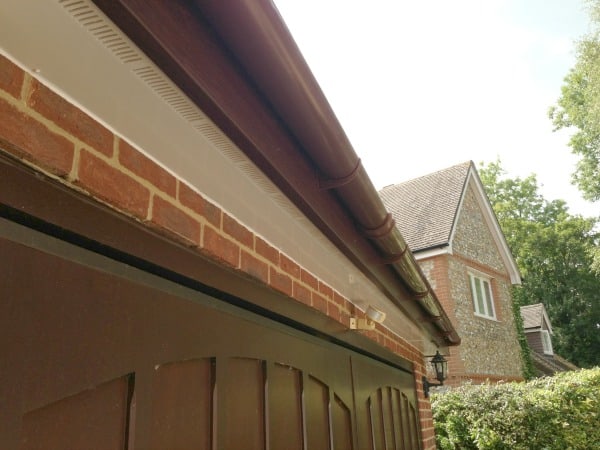 Our customer had a single glazed wooden door which led from the dining room onto the patio. They were refurbishing their dining room and wanted a modern, secure, warm door with double glazing and to reduce ongoing maintenance.
They wanted the door to look as close as possible to the original wooden door.
We supplied and installed a Rosewood out/white inside fully sculptured Liniar profile door with brushed silver-coloured handles and surface mounted Georgian Bars.
For fascias soffits Dorking, call Dorking Glass! The customer in Dorking had just bought the property and had started to fully refurbish it.
The existing fascias soffits and cladding were rotten in places and hadn't been painted in years and the guttering leaked.
The customer wanted to change the look of the property and decided to change the colour of the fascias, soffits and cladding from white to a Rosewood colour low-maintenance uPVC.
We removed and disposed of the existing defective timber and supplied and fitted new Rosewood coloured uPVC fascias, soffits and cladding. We then installed new black uPVC guttering and downpipes.
Included within the price was the required access safety equipment and to dispose of all site debris.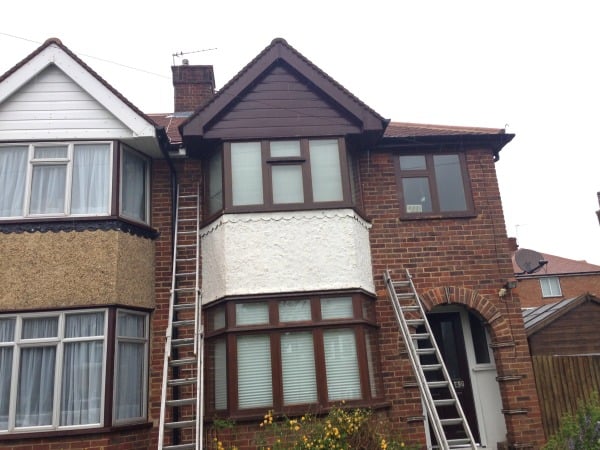 The existing windows and doors were stained hardwood. They were glazed with thin double glazed sealed units with rectangular leads.
The windows and doors were in a good condition but our customer wanted to have more secure, modern, thermally efficient double glazing on their windows and doors which would also require less long term maintenance.
To reduce the maintenance on the property, we also replaced all of the existing roofline products (fascias, soffits and guttering) to new, modern, low maintenance uPVC.
We supplied 13 windows, 2 bay windows and 2 doors all Rosewood out/white in, Liniar profile, uPVC A-rated and double glazed with rectangular leaded lights.
The locks were shootbolt locks operated by chrome handles.
The Rosewood uPVC fascia boards, white vented soffit boards and black half round deep flow guttering completed the refurbishment.