Tag Archives: french doors
The existing windows and doors in the customer's kitchen extension were timber. They weren't rotten but were difficult to operate and were very draughty.
Our customer wanted reliable, low maintenance, secure double glazing which matched with the existing timber stained finish and so they chose the Rosewood colour uPVC externally and the Cedarwood uPVC internally.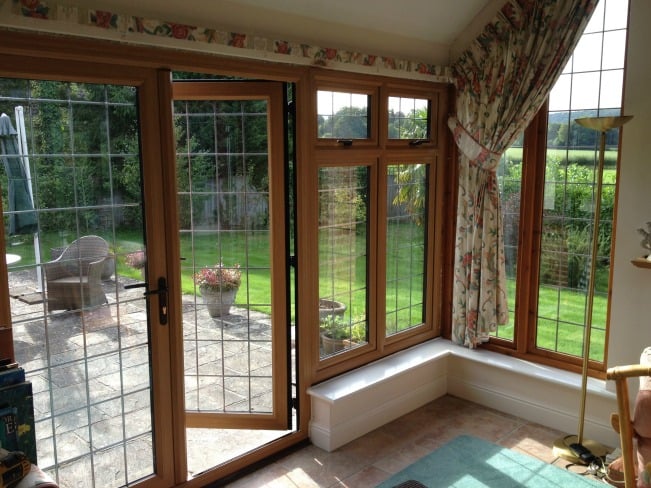 We supplied and fitted an A-rated double glazed uPVC window together with a pair of French doors – all Liniar profile, Rosewood outside, Cedarwood inside and with 9mm oval rectangular leaded lights to match the existing layout.
This rental property in Weybridge, Surrey had single glazed windows which were in a very poor condition. Some had been painted shut, some rotten, but all condensated really badly.
The tenant had complained about the existing windows and the landlord wanted to invest back into his rental property.
We fitted one composite front door, one pair uPVC French Doors and five uPVC windows.
The uPVC windows fitted were energy efficient, A-rated double glazed units with fully sculptured frames, white handles, and trickle ventilation to provide better ventilation in the property.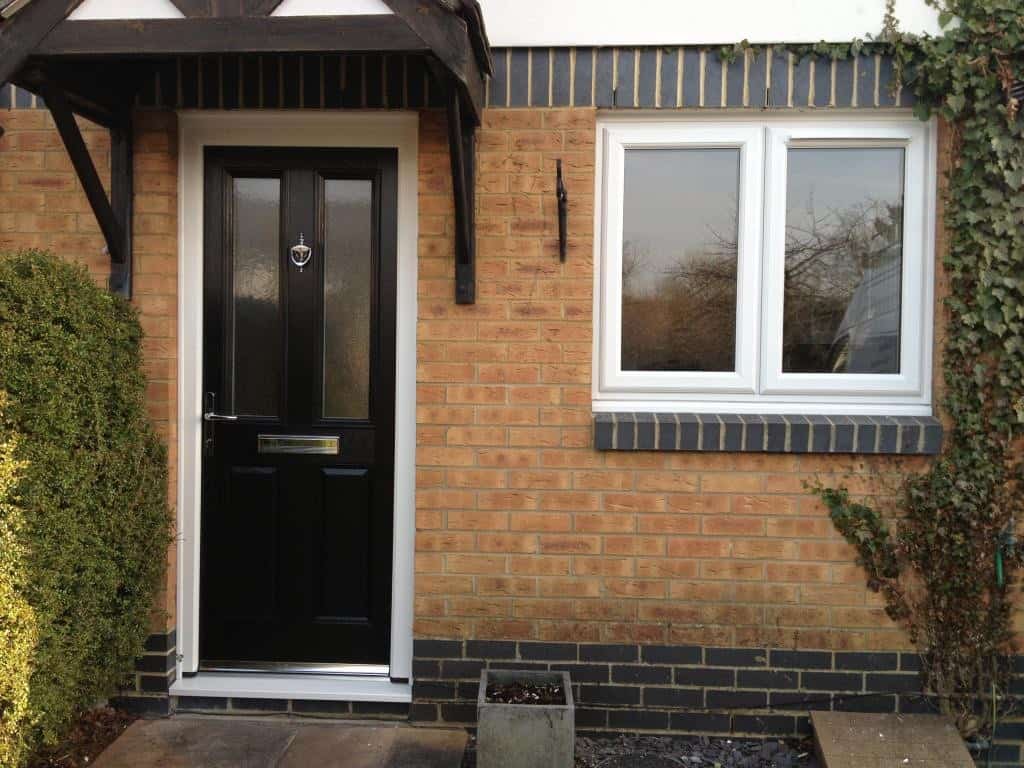 This property had traditional single glazed timber windows which had become very cold, draughty with lots of condensation causing staining to internal decoration.
The owners decided it was time to upgrade the windows to energy-efficient, uPVC double glazing.
We installed eight uPVC double glazed standard windows and two uPVC French Doors.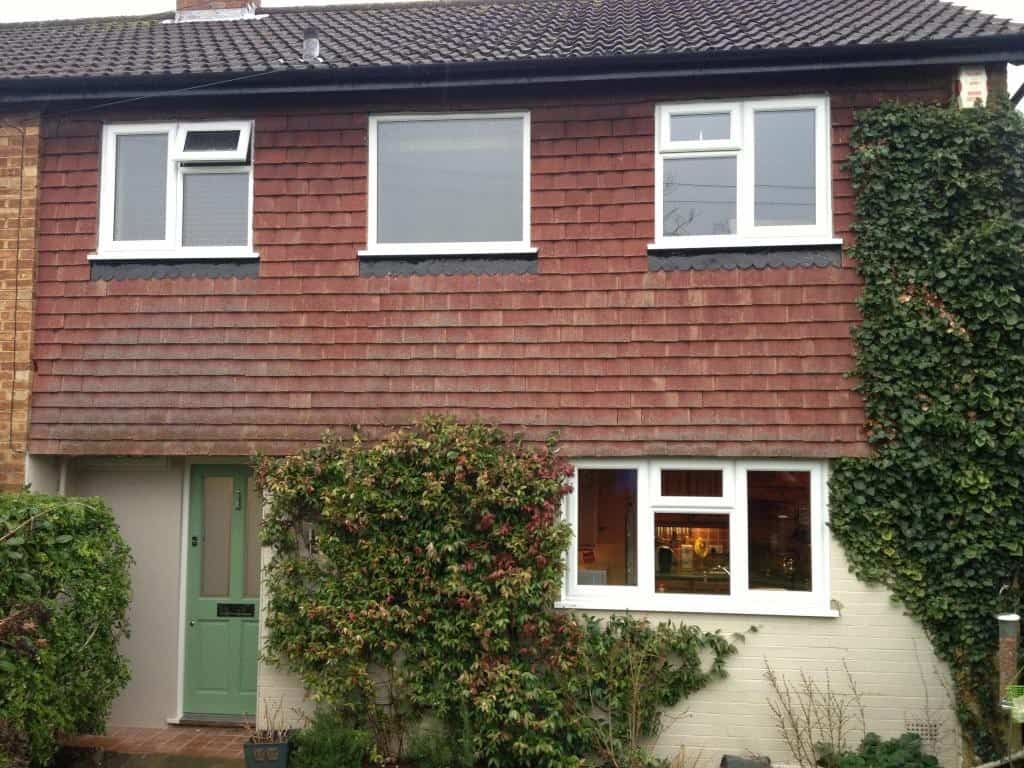 The windows and French Doors are A-rated energy-efficient white uPVC with fully sculptured framing with chrome handles.
Second to none. Polite, professional, just perfect. Incredibly happy with my windows and doors, great transformation to my house. The two workmen could not have been more hard working, tidying up after every day, methodical in all aspects of their work.

Their workmanship was of the highest standard. I would highly recommend this company and the workmen.
Our customer had recently moved into this property. The existing windows were approximately 30 years old and had aluminium frames fitted into timber sub-frames.
Some of the sealed units had blown (misting up), and some hinges had failed. The windows were also very thermally inefficient.
Our customer wanted to replace with easy to care for and energy-efficient uPVC windows with slim framing and equal sight lines.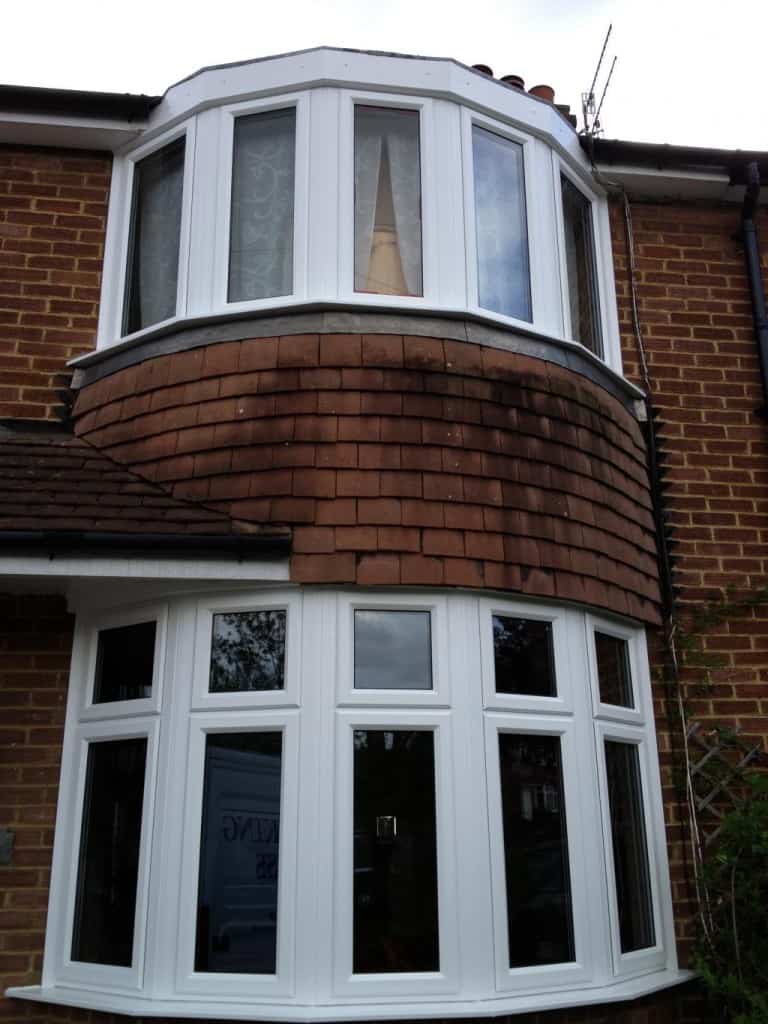 We installed two bay windows, six windows and one set of French Doors.
To achieve equal sight lines, the windows were externally glazed (thinnest frame sections) with dummy casements to the front of the property.
We also replaced the fascias above and leadwork below the upstairs bay window.

This recent customer had a fantastic bar/entertainment room in the garden of their large property.
The existing windows and French Doors were cheaper wooden ones and they were starting to degrade and rot.
They had planned a garden party and wanted to give the garden room a make-over for a smarter, fresh look.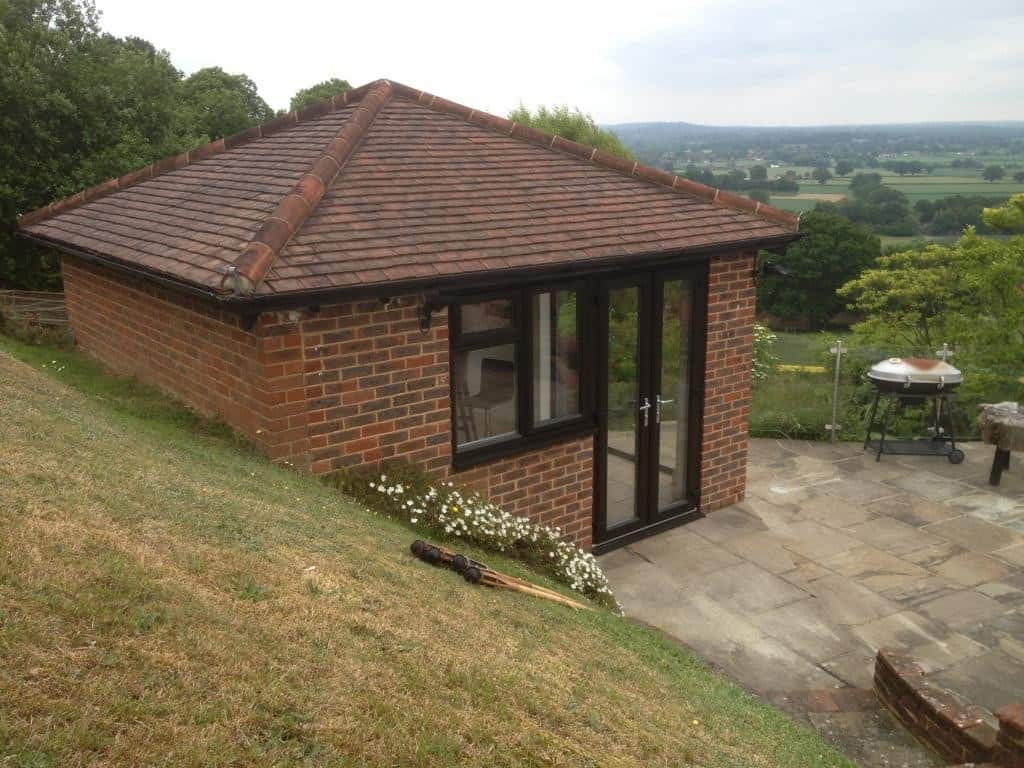 We supplied and installed three new windows, one single entrance door and one pair of French Doors.
The windows and doors are A-rated Black/Brown uPVC chamfered frame Liniar profile.
Our customer was having a large extension built and they wanted new windows and French Doors to match their existing windows.
They have an older property and it was important to them to create a consistent overall look.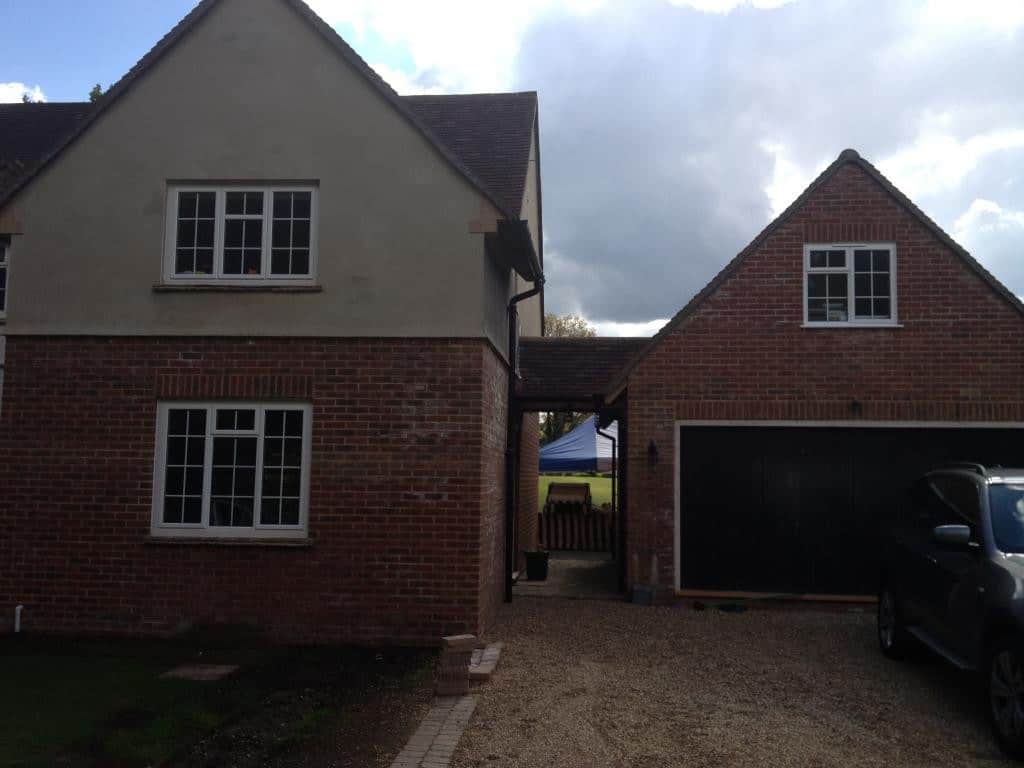 We supplied and installed seven windows and two pairs of French Doors. All were white powder-coated aluminium in finish.
The windows at the front of the property were installed into white painted hardwood subframes.
And the windows and French Doors to the rear of the property were installed directly into the brickwork.
All the windows were glazed with top specification glass sealed units with 18mm white Georgian Bars.
This property in Caterham in Surrey had existing upstairs rear windows which were single glazed, vertical sliding, white painted in softwood timber.
The existing upstairs French Doors with a balcony were single glazed, white painted softwood. The existing windows and french doors provided little insulation in winter, suffered from bad condensation and had started to rot.
We replaced four windows with white microporous painted hardwood frames. The windows are double glazed, vertical sliding counterbalanced with spiral balances and surface mounted Georgian Bars.
The French Doors are hung from standard butt hinges and have a multi-point locking system and also have matching surface mounted Georgian Bars.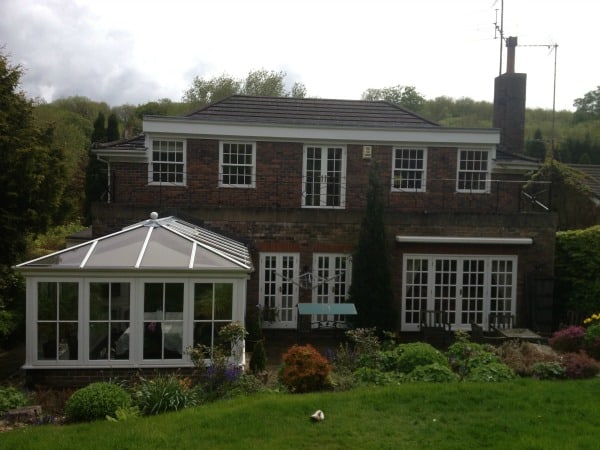 Our customer was having a new kitchen fitted but wanted to change the layout by having French Doors opening directly onto her patio.
A common desire to open out your kitchen into your outdoor space and make the most of your garden!
The brickwork was ground out below the existing window and the window was removed. We then installed the new uPVC French Doors, sinking the cill and threshold as low as possible into the floor to reduce the step height.
The white Swiftframe double glazed, uPVC French doors had bevelled framing and beading with internal 18mm white Georgian Bars and white handles.
We made good the external render and the customer had booked a plasterer to make good the inside next to the doors.
The existing windows were black painted timber. They were double glazed with very thin sealed units and were extremely draughty.
The doors were the only exit from the lounge onto the patio area and the doors were difficult to open and close.
Our customer wanted new French Doors and a window which were warmer worked in all weathers and required less maintenance.
We supplied and installed Smarts system double glazed, glass sealed units – one window and French Doors in blackout, white in powder-coated aluminium.
Bifolding doors are 'in'! Originally designed as internal doors for use in confined spaces, such as closets and laundry rooms, as homeowners and property developers endeavoured to make the most of all available space, bifolding doors have now found their place as a modern exterior door option.
Get more connected to your wonderful outdoor space
Bifolding doors are the perfect solution if you're looking to open up your living space and make it feel more connected to your garden or patio, which makes them well worth considering if you're planning an extension or wanting to make better use of the space you have.
The flexibility of bifolding doors gives a real advantage over standard doors too. They can be fully opened, partially opened, or kept completely closed, giving you greater control over how much additional space you want to create. And because of the amount of glazing – rather than the solid wall – you can achieve a much more visually appealing result because the view onto your garden will become much bigger.
Even when the doors are shut on a cold day, you won't feel shut off from the outside.
Then there's the extra natural light that will flow into the room, something that can make all the difference to a small space – the simple choice of bifolding doors can easily create a wonderfully airy environment.

A flexible and practical door solution…
Of course, some people will always argue that sliding doors are better because of the large expanse of glazing in relation to the frame. Yes, they do have the advantage of creating an unbroken view of the outside, but that's about it – and it's a limited view.
Sliding doors will only open to less than half of the overall width and they simply do not offer the same versatility as bifolding doors. If you can form two sides of an extension with fully opening bifolding doors, then the frames become a small compromise.
The beauty of bifolding doors is that you can pretty much choose what you want according to the available space. They are generally designed so that there is one main traffic door opening outwards, with all doors folding back one way or, with wider door combinations, two hinged doors split centrally which fold back each way, but there are many possible permutations!
Durability isn't an issue. Exterior bifolding doors are manufactured to high-quality standards and must comply with regulations for insulation, safety and security and weather ratings so you can be assured that leaks and draughts won't be an issue.
Dorking Glass install the 'Schuco' profile, acknowledged within the industry as being one of the highest quality aluminium bifolding door systems available. Each door leaf can be manufactured up to 1200mm wide and 3000mm tall, which is just not possible with other systems.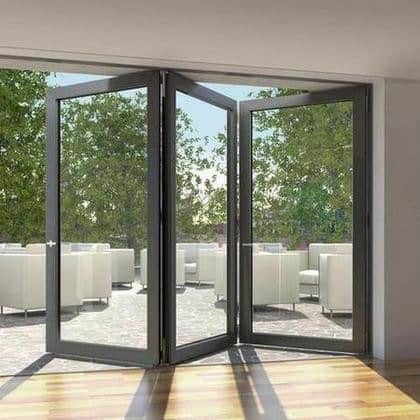 The perfect option no matter what colour you are after!
There are also plenty of colours to choose from – the doors can be powder-coated to any standard RAL colour, so whatever the style of your room there will be a set of bifolding doors to suit.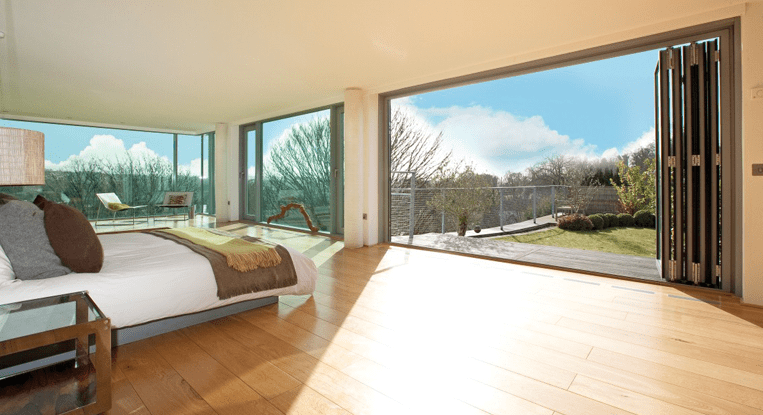 If you're planning home improvements or an extension to your property and would like to find out more about how bifolding doors might work for you, contact Dorking Glass and we'll be happy to discuss the options with you.