Tag Archives: double glazing
The school's existing windows were uPVC set within hardwood sub-frames. The school was sectioning off part of a larger room in the sixth form building to create a gym area.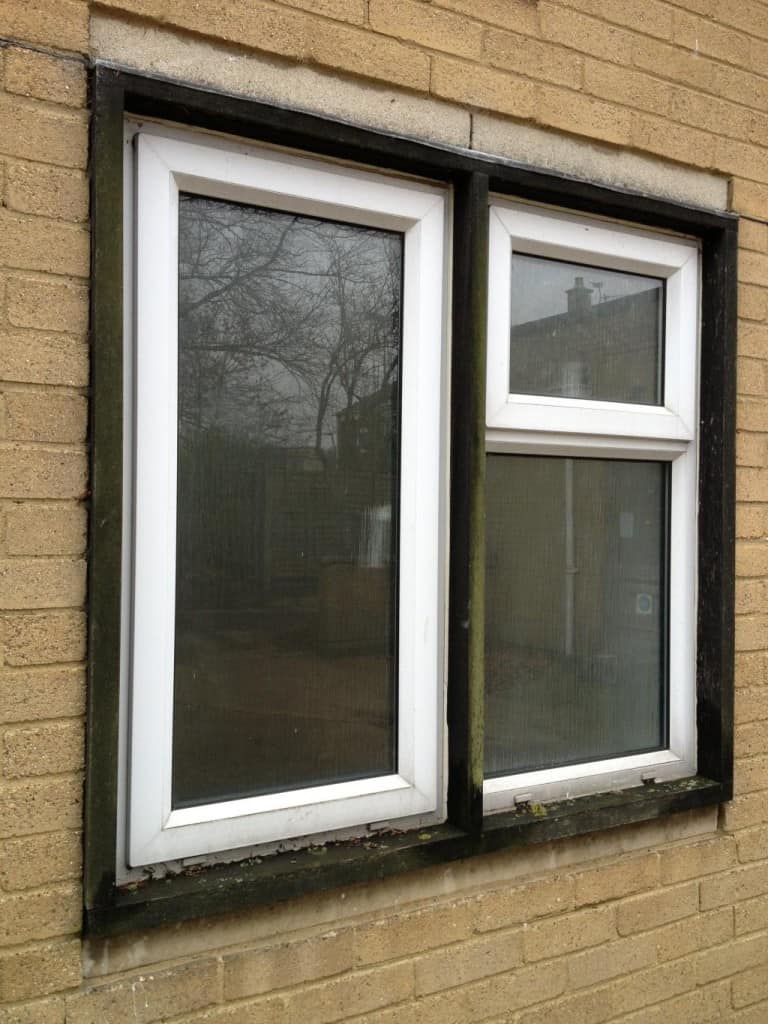 Building Regulations required a fire escape from the new gym area, so the existing hardwood frames were removed and new uPVC windows were installed providing the minimum clearance 450mm x 750mm gap, to enable occupants to escape through.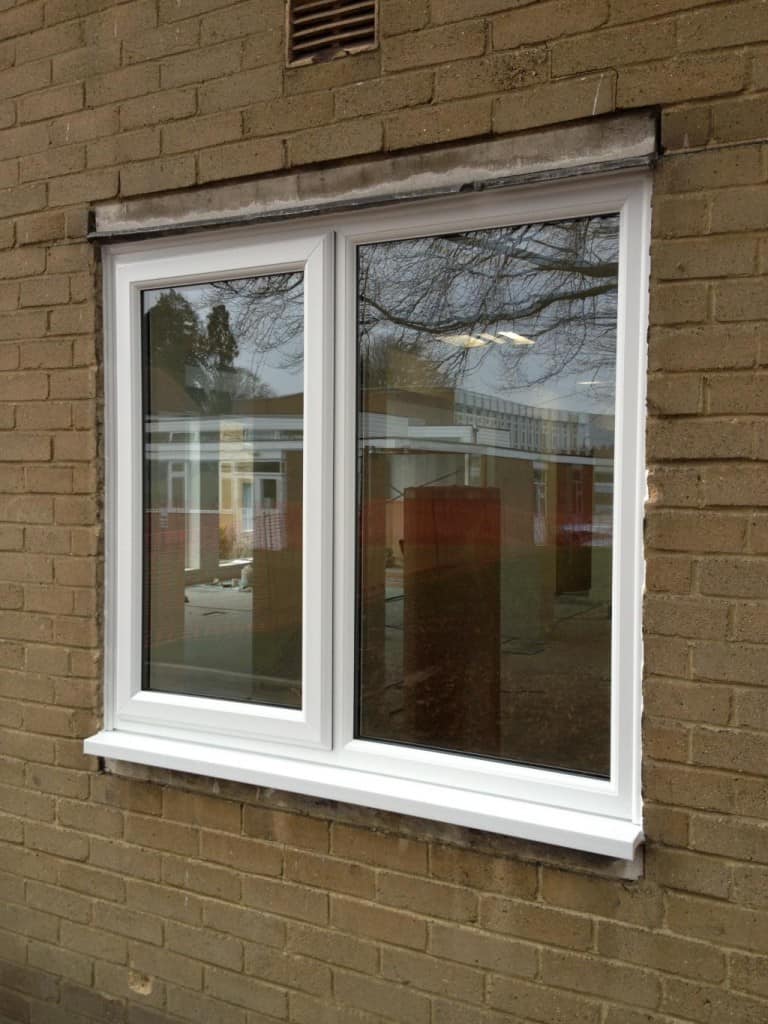 We fitted three white uPVC windows with fully sculptured framing. Liniar system, A-rated energy efficient, with clear toughened glass, fire egress friction hinges, and white handles.

The customer wanted an additional porch frame installed at the front of their period property in Cobham in Surrey, to create a practical porch area at the entrance area.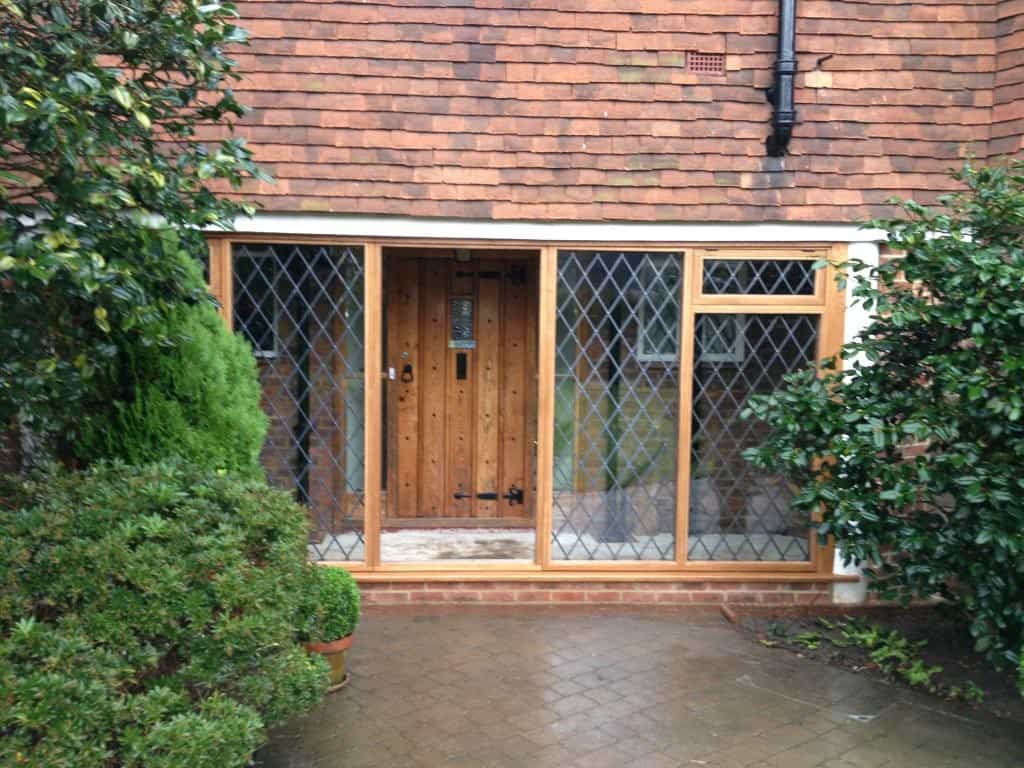 The porch had to be in keeping with the older property so we fitted 90mm thick European solid Oak frames with a pencil edge moulding.
The frame was fitted with clear toughened, energy-saving glass with attractive period style, diamond leaded lights.
This rental property in Weybridge, Surrey had single glazed windows which were in a very poor condition. Some had been painted shut, some rotten, but all condensated really badly.
The tenant had complained about the existing windows and the landlord wanted to invest back into his rental property.
We fitted one composite front door, one pair uPVC French Doors and five uPVC windows.
The uPVC windows fitted were energy efficient, A-rated double glazed units with fully sculptured frames, white handles, and trickle ventilation to provide better ventilation in the property.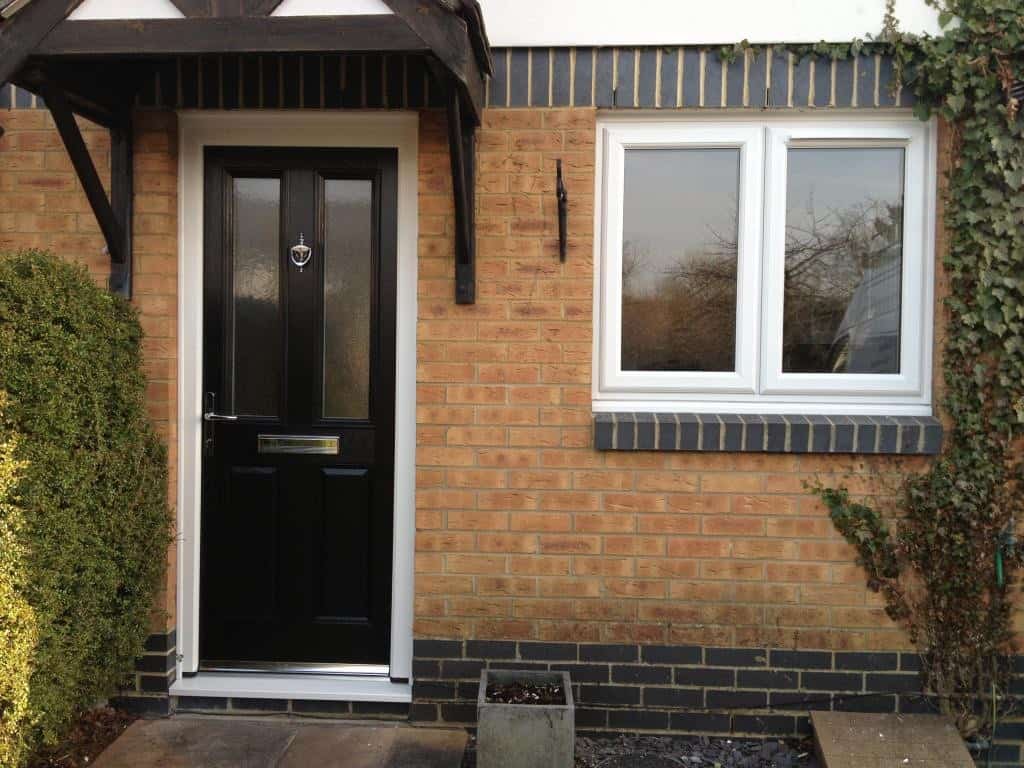 This character property had single glazed timber windows which had rotted and were now insecure and let in the cold.
The owners wanted to replace with something more energy-efficient but in keeping with the style of their property.
We fitted 10 new A-rated, energy-efficient uPVC windows in standard white with fully sculptured framing and Rosewood colour uPVC external cills.
The uPVC windows were finished off with black monkey tail handles and 24mm surface mounted Georgian Bars.
This created more of a period finish for this older property.
This property in Ewhurst, Surrey had single glazed timber windows. As with all timber windows, eventually, over the years, these had deteriorated with weather and sunlight damage.
Some had also been painted shut.
The old windows had become insecure and provided little warmth and energy efficiency – resulting in a cold and draughty house. The owners decided they wanted to fit new energy-efficient uPVC windows.
We fitted White Woodgrain uPVC windows – one bay window and nine standard windows.
The A-Rated energy-efficient windows had fully sculptured framing with stylish black monkey tail handles.
This property had traditional single glazed timber windows which had become very cold, draughty with lots of condensation causing staining to internal decoration.
The owners decided it was time to upgrade the windows to energy-efficient, uPVC double glazing.
We installed eight uPVC double glazed standard windows and two uPVC French Doors.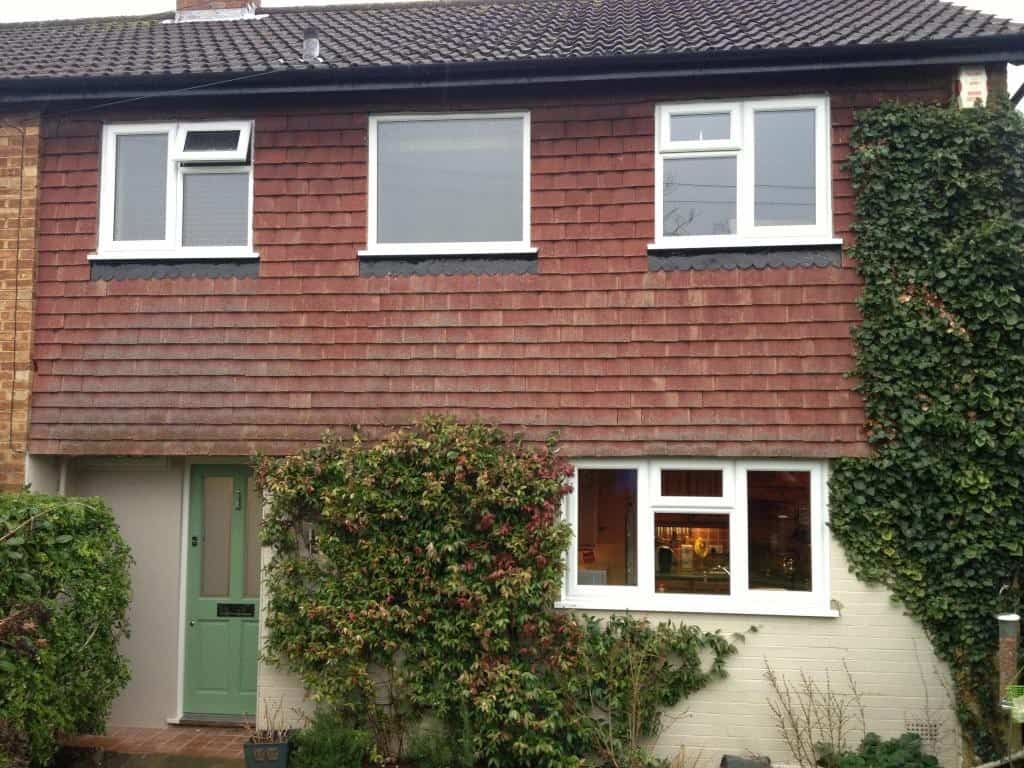 The windows and French Doors are A-rated energy-efficient white uPVC with fully sculptured framing with chrome handles.
Second to none. Polite, professional, just perfect. Incredibly happy with my windows and doors, great transformation to my house. The two workmen could not have been more hard working, tidying up after every day, methodical in all aspects of their work.

Their workmanship was of the highest standard. I would highly recommend this company and the workmen.
Our customer had a front porch with a timber, single glazed entrance door. The design meant a large glass area which was very cold in winter and the existing door frame had started to rot.
The customer wanted a low maintenance alternative to match as close as possible to the original door design.
We supplied and installed one door with two side panels – white uPVC window framing and door outer frame.
Red uPVC door leaf and Rosewood uPVC door cill. We added trickle vents to give background ventilation and brushed silver door furniture.
Our customer had recently moved into this property. The existing windows were approximately 30 years old and had aluminium frames fitted into timber sub-frames.
Some of the sealed units had blown (misting up), and some hinges had failed. The windows were also very thermally inefficient.
Our customer wanted to replace with easy to care for and energy-efficient uPVC windows with slim framing and equal sight lines.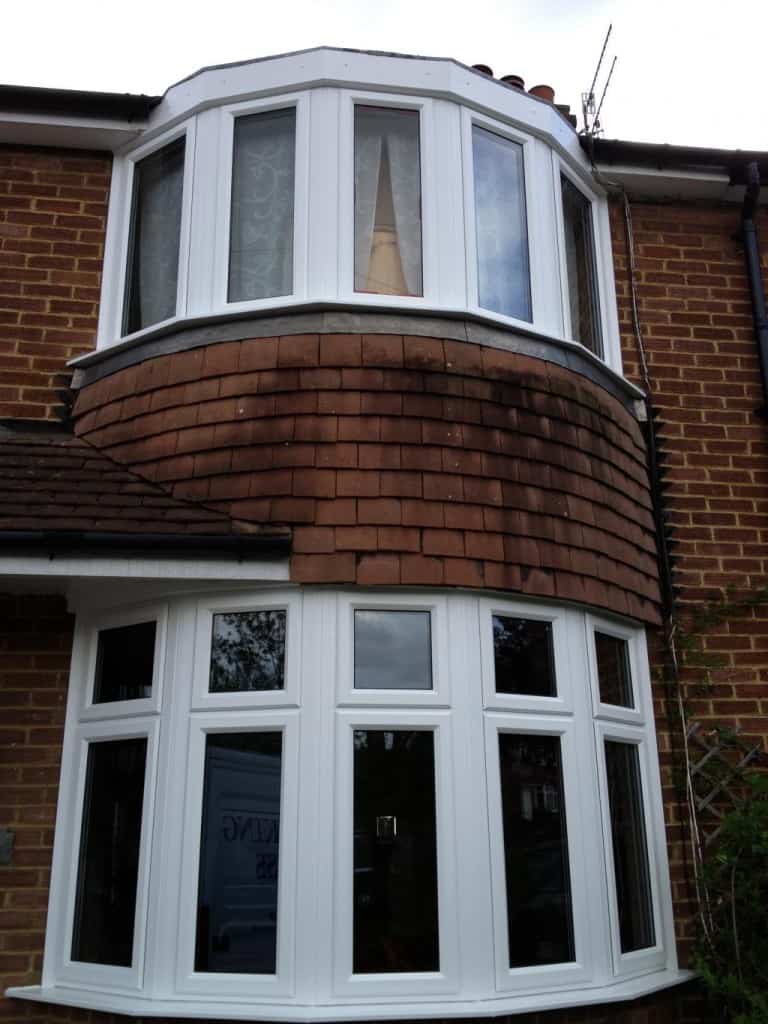 We installed two bay windows, six windows and one set of French Doors.
To achieve equal sight lines, the windows were externally glazed (thinnest frame sections) with dummy casements to the front of the property.
We also replaced the fascias above and leadwork below the upstairs bay window.

This recent customer had a fantastic bar/entertainment room in the garden of their large property.
The existing windows and French Doors were cheaper wooden ones and they were starting to degrade and rot.
They had planned a garden party and wanted to give the garden room a make-over for a smarter, fresh look.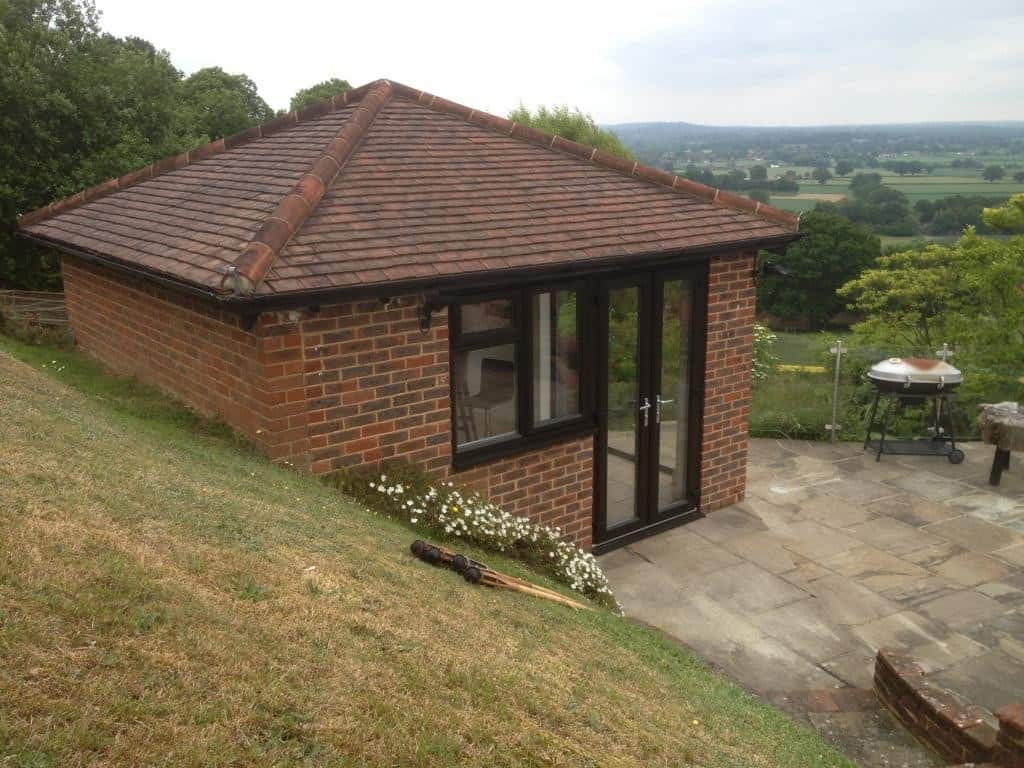 We supplied and installed three new windows, one single entrance door and one pair of French Doors.
The windows and doors are A-rated Black/Brown uPVC chamfered frame Liniar profile.
This home was a new build in the last 12 months and had two entrance doors that were poorly installed and of a very low quality.
We supplied and installed new white composite front and back doors. Both doors had rosewood colour uPVC external cills.
The new doors are more secure and provide the owners with greater peace of mind and a warmer home.