The windows in this terraced house in Tadworth, Surrey were draughty and needed replacing.
The customer chose Rosewood out/white in uPVC windows with Liniar profiles and we supplied and fitted six of these windows to the property.
The house now benefits from energy-efficient double glazing for improved warmth and security.
The existing windows and doors in the customer's kitchen extension were timber. They weren't rotten but were difficult to operate and were very draughty.
Our customer wanted reliable, low maintenance, secure double glazing which matched with the existing timber stained finish and so they chose the Rosewood colour uPVC externally and the Cedarwood uPVC internally.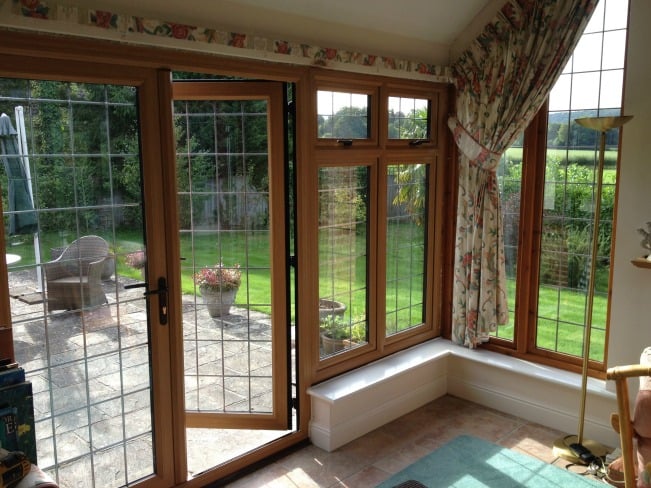 We supplied and fitted an A-rated double glazed uPVC window together with a pair of French doors – all Liniar profile, Rosewood outside, Cedarwood inside and with 9mm oval rectangular leaded lights to match the existing layout.
The school's existing windows were uPVC set within hardwood sub-frames. The school was sectioning off part of a larger room in the sixth form building to create a gym area.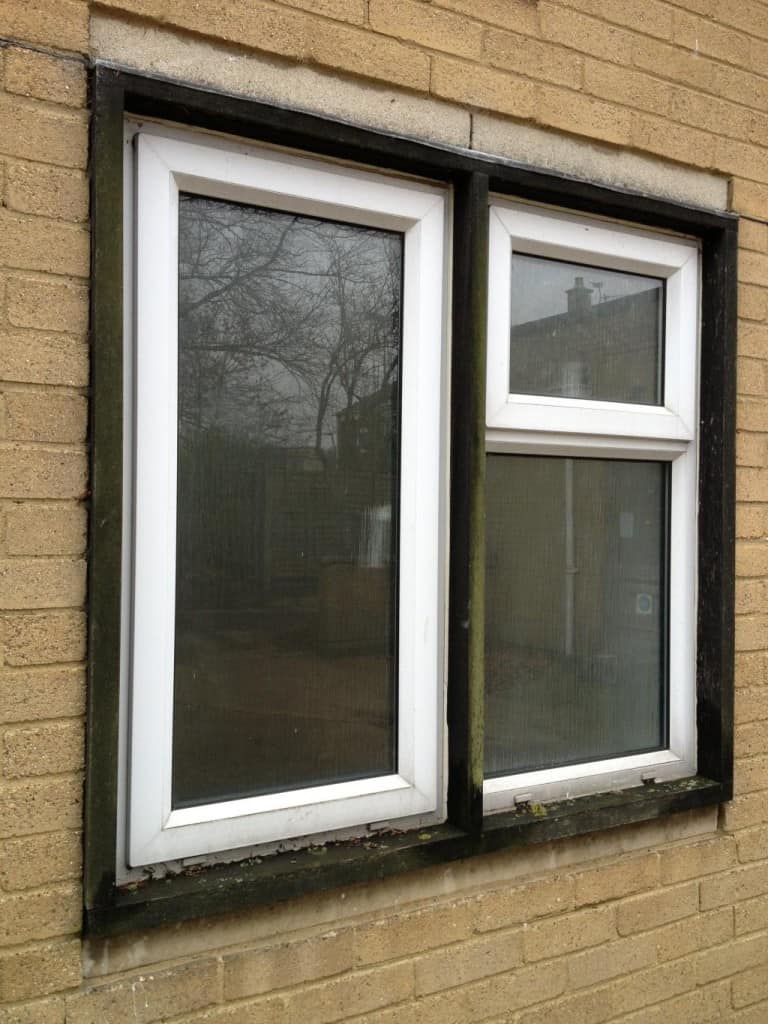 Building Regulations required a fire escape from the new gym area, so the existing hardwood frames were removed and new uPVC windows were installed providing the minimum clearance 450mm x 750mm gap, to enable occupants to escape through.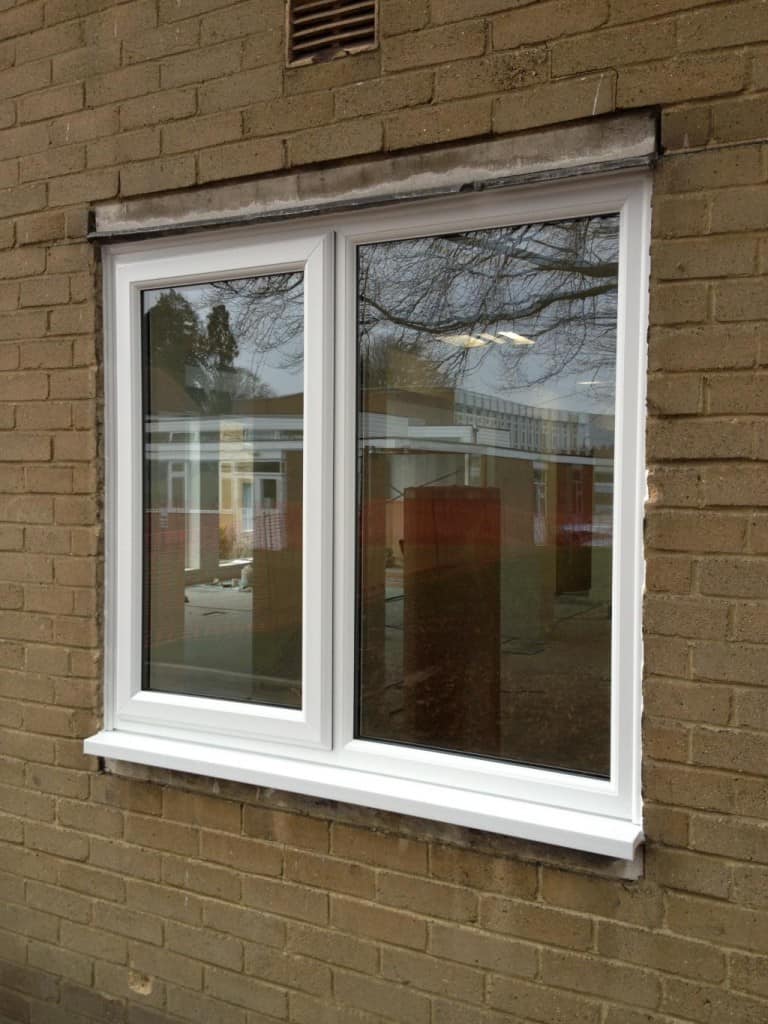 We fitted three white uPVC windows with fully sculptured framing. Liniar system, A-rated energy efficient, with clear toughened glass, fire egress friction hinges, and white handles.

This rental property in Weybridge, Surrey had single glazed windows which were in a very poor condition. Some had been painted shut, some rotten, but all condensated really badly.
The tenant had complained about the existing windows and the landlord wanted to invest back into his rental property.
We fitted one composite front door, one pair uPVC French Doors and five uPVC windows.
The uPVC windows fitted were energy efficient, A-rated double glazed units with fully sculptured frames, white handles, and trickle ventilation to provide better ventilation in the property.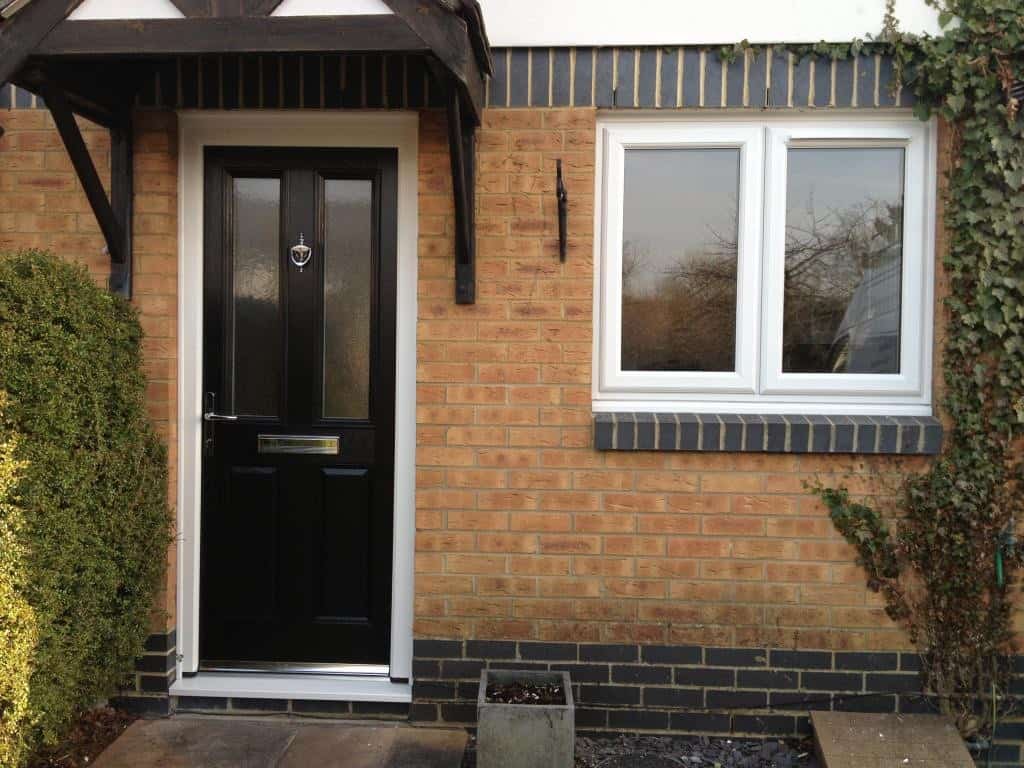 This character property had single glazed timber windows which had rotted and were now insecure and let in the cold.
The owners wanted to replace with something more energy-efficient but in keeping with the style of their property.
We fitted 10 new A-rated, energy-efficient uPVC windows in standard white with fully sculptured framing and Rosewood colour uPVC external cills.
The uPVC windows were finished off with black monkey tail handles and 24mm surface mounted Georgian Bars.
This created more of a period finish for this older property.
This property in Ewhurst, Surrey had single glazed timber windows. As with all timber windows, eventually, over the years, these had deteriorated with weather and sunlight damage.
Some had also been painted shut.
The old windows had become insecure and provided little warmth and energy efficiency – resulting in a cold and draughty house. The owners decided they wanted to fit new energy-efficient uPVC windows.
We fitted White Woodgrain uPVC windows – one bay window and nine standard windows.
The A-Rated energy-efficient windows had fully sculptured framing with stylish black monkey tail handles.
This recent customer had a fantastic bar/entertainment room in the garden of their large property.
The existing windows and French Doors were cheaper wooden ones and they were starting to degrade and rot.
They had planned a garden party and wanted to give the garden room a make-over for a smarter, fresh look.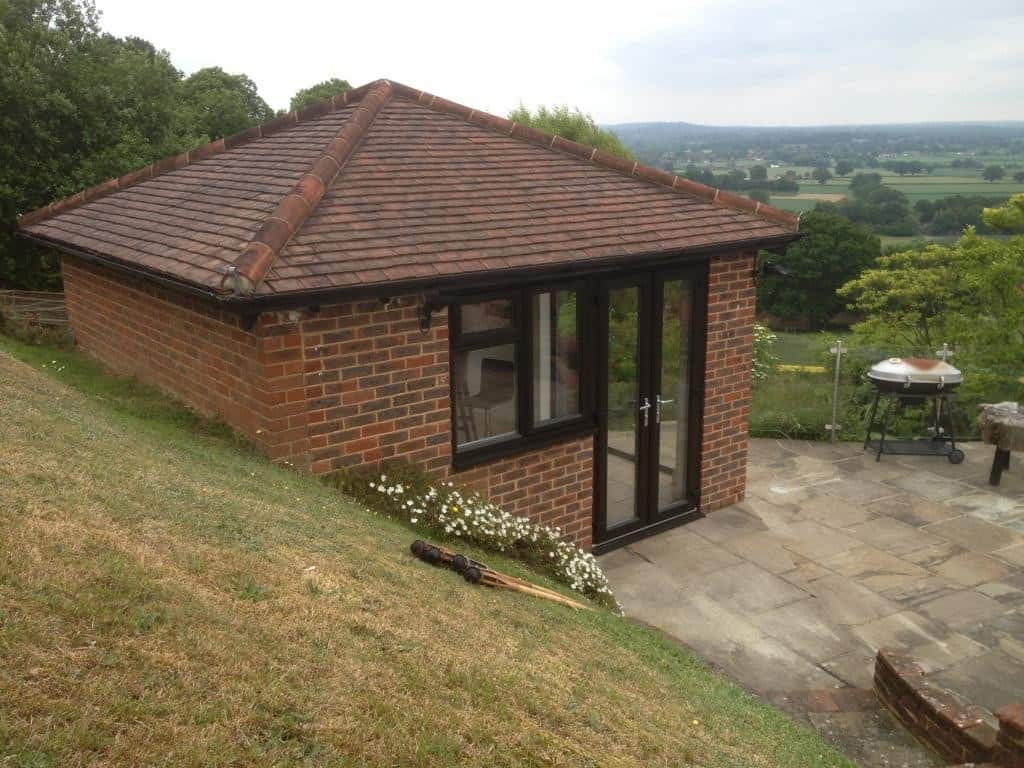 We supplied and installed three new windows, one single entrance door and one pair of French Doors.
The windows and doors are A-rated Black/Brown uPVC chamfered frame Liniar profile.
This new loft conversion was carried out by House of Building who are based in Reigate in Surrey.
We supplied and installed rear dormer with one window for the new master bedroom and one window in a new en-suite bathroom.
The customer wanted the new uPVC windows to look similar and in keeping with the vertical sliding windows in the rest of the property.
The new uPVC windows were split horizontally halfway down, with only the top half opening.
The new windows were white uPVC Liniar profile A-rated, with fully sculptured suite and surface mounted Georgian Bars.
Our customer who lives in Reigate, Surrey had been granted planning permission to convert her garage into an office for her accountancy business.
She wanted high quality, thermally efficient, secure windows and doors with minimal maintenance.
It was also specified to make sure the front door opened outwards to maximise the useable internal floor space in her new office.
We supplied three white, Liniar profile, A-rated, double glazed, uPVC windows with chamfered framing and beading and a brown darkwood GRP composite front door, with white uPVC outer frame glazed with clear toughened glass.
The outer frame glazing helped to maximise light in the office and the toughened glass gave extra peace of mind and security.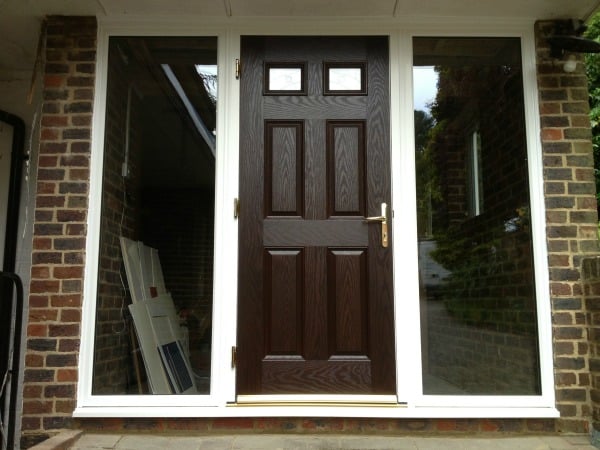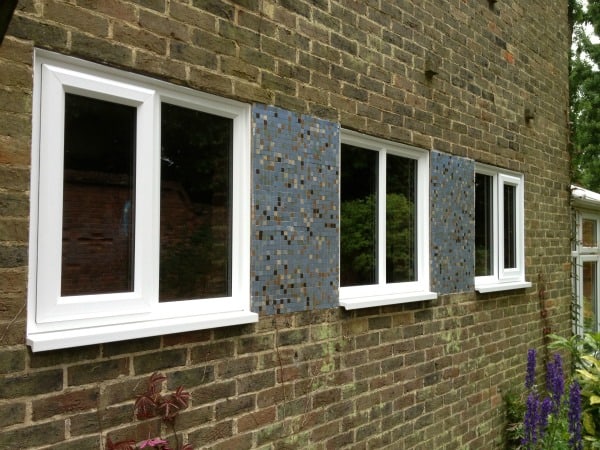 The customer was extremely pleased with the finished result:
"I would like to say a big thank you to the boys. They were quick, efficient, professional, tidy and clean. They have done a wonderful job.

The finishing of the door and the windows look really good.

Even the 12 bricks are matching to the existing brick work which makes another difference.

Thank you for a fantastic job done! I am very, very pleased."
The existing windows in this detached house in Dorking, Surrey were softwood, they hadn't rotted (yet!) but they needed painting.
The windows were glazed with very thin double glazed sealed units which had started to mist up.
Our customer wanted warmer, more secure windows with much less maintenance!
We supplied and fitted nine windows with white Liniar A-rated, double glazed, uPVC windows with dummy casements for equal sight lines and large head frame with 4000 trickle vents.