The existing windows and doors in the customer's kitchen extension were timber. They weren't rotten but were difficult to operate and were very draughty.
Our customer wanted reliable, low maintenance, secure double glazing which matched with the existing timber stained finish and so they chose the Rosewood colour uPVC externally and the Cedarwood uPVC internally.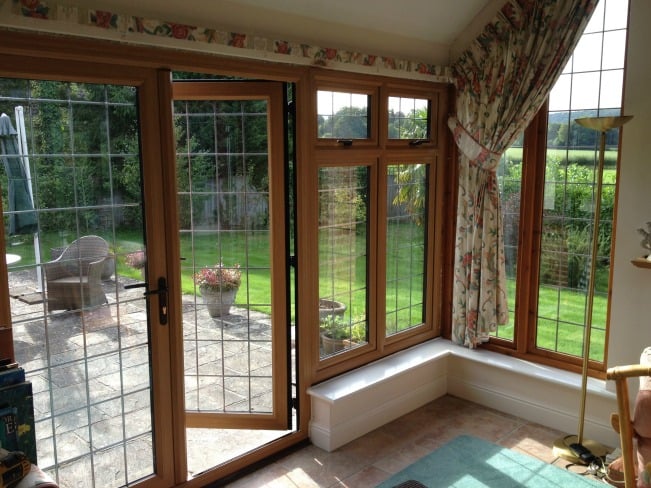 We supplied and fitted an A-rated double glazed uPVC window together with a pair of French doors – all Liniar profile, Rosewood outside, Cedarwood inside and with 9mm oval rectangular leaded lights to match the existing layout.
The windows in this terraced house in Tadworth, Surrey were draughty and needed replacing.
The customer chose Rosewood out/white in uPVC windows with Liniar profiles and we supplied and fitted six of these windows to the property.
The house now benefits from energy-efficient double glazing for improved warmth and security.
The existing window was single glazed timber and was cold and draughty. We had been replacing all the windows with new uPVC double glazing over the last few years and this was the last window to be changed.
The house now benefits from energy-efficient and more secure double glazing on all of its windows.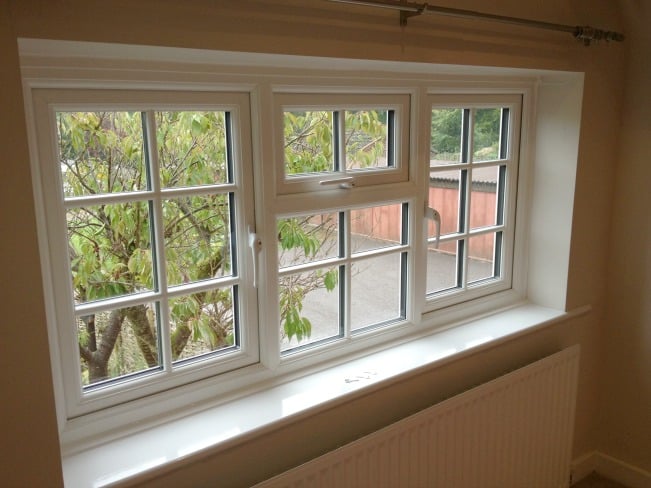 The customer had chosen white uPVC Liniar profile windows with surface mounted Georgian bars in keeping with the style of property and the other windows that had also been replaced.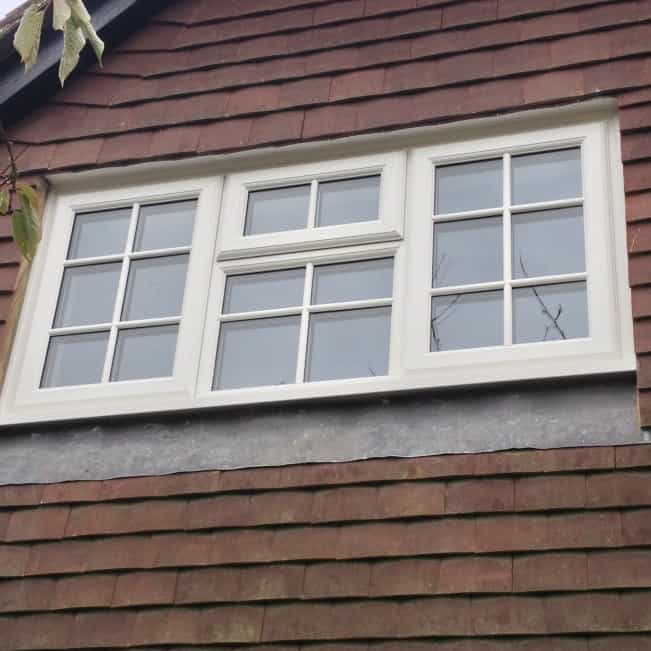 The customer's existing porch door was a single glazed timber framed door. They were having the outside walls painted and wanted a more secure, low maintenance front porch door with double glazing.
We supplied and installed a GRP composite front door dark wood out/white in together with one white uPVC side window.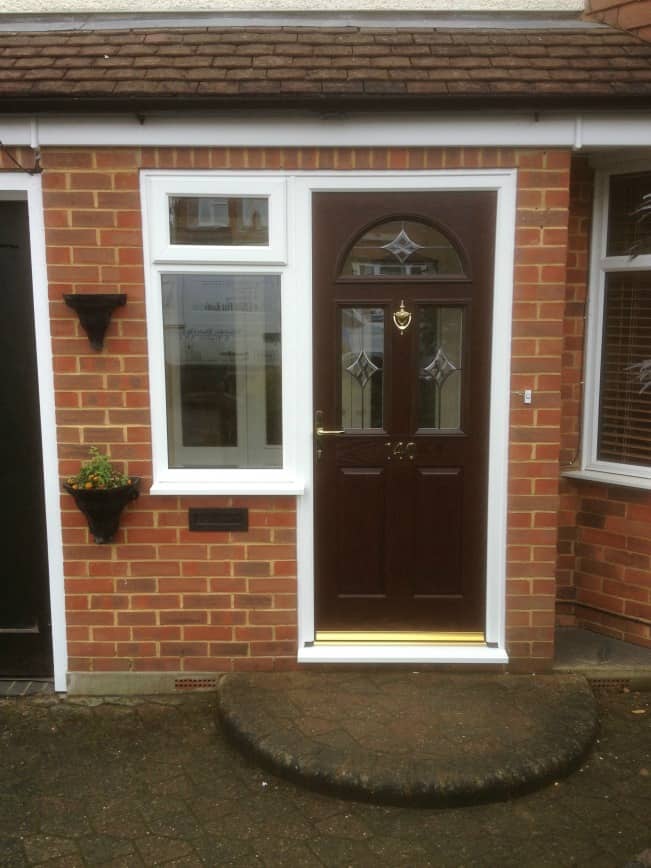 The existing windows and doors were stained hardwood. They were glazed with thin double glazed sealed units with rectangular leads.
The windows and doors were in a good condition but our customer wanted to have more secure, modern, thermally efficient double glazing on their windows and doors which would also require less long term maintenance.
To reduce the maintenance on the property, we also replaced all of the existing roofline products (fascias, soffits and guttering) to new, modern, low maintenance uPVC.
We supplied 13 windows, 2 bay windows and 2 doors all Rosewood out/white in, Liniar profile, uPVC A-rated and double glazed with rectangular leaded lights.
The locks were shootbolt locks operated by chrome handles.
The Rosewood uPVC fascia boards, white vented soffit boards and black half round deep flow guttering completed the refurbishment.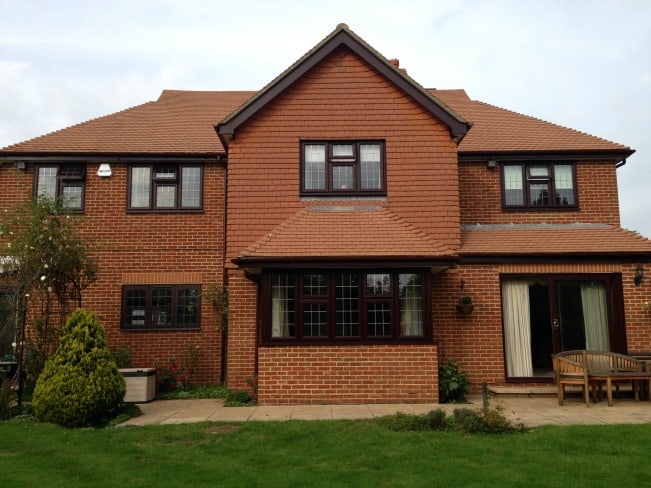 The classroom was a free standing timber structure. The windows were single glazed and the classroom was too cold in the winter and too hot in the summer. Not great for the pupils or teachers!
We installed white uPVC Liniar profile windows with bevelled frame and beading and white handles, throughout the whole timber classroom. The windows were A-rated for maximum energy efficiency.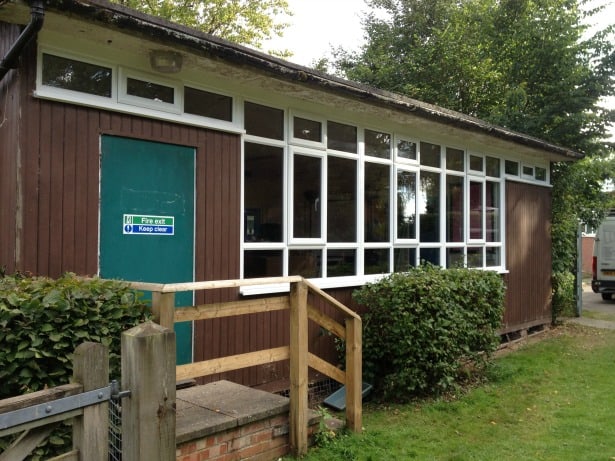 Our customer had a blank wall in their main bedroom and wanted a set of French Doors, opening side windows and a Juliet balcony.
We supplied and installed white uPVC fully sculptured Liniar profile A-rated, double-glazed French Doors and two tilt and turn windows featuring shaped head frames. Both were glazed with clear toughened glass.
The existing windows were timber vertical sliders which were starting to rot and were very draughty and unsecure.
Our customer wanted a low maintenance, secure, thermally efficient window that was in keeping with their period property.
We supplied and installed three double glazed, uPVC vertical sliding windows with decorative horns which are exactly the right style for this Georgian style property.
Our customer had single glazed timber windows and French doors which suffered from condensation and were draughty and cold.
The windows and French Doors were in their main bedroom and they wanted to replace them so they were warmer in the winter months.
The windows had Georgian Bars which were extremely time-consuming to rub down and re-paint and the customer was keen to reduce the amount and cost of maintenance on their older, period property.
We supplied and installed white Liniar uPVC A-rated double glazed windows and French Doors with chamfered framing and surface mounted Georgian Bars.
The French Doors had attractive gold coloured handles.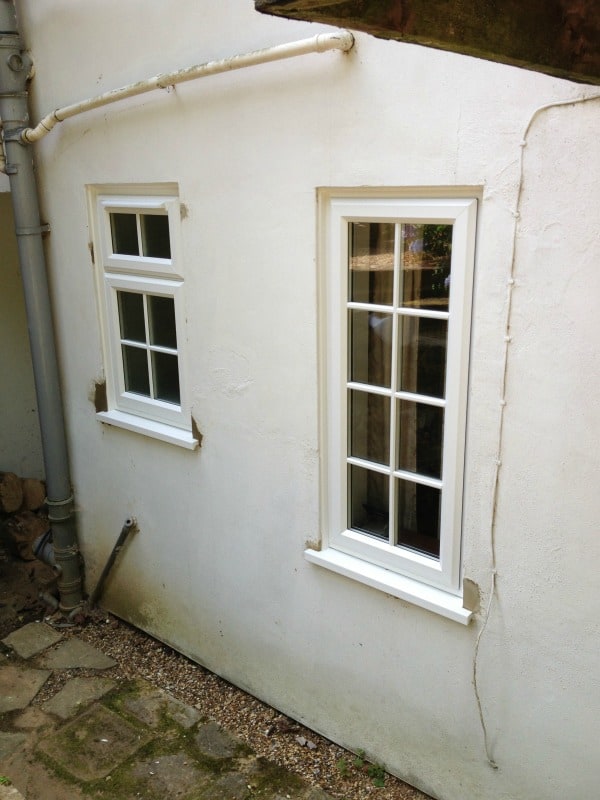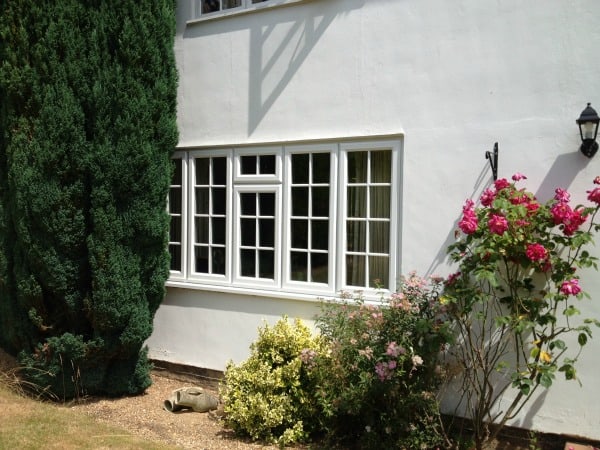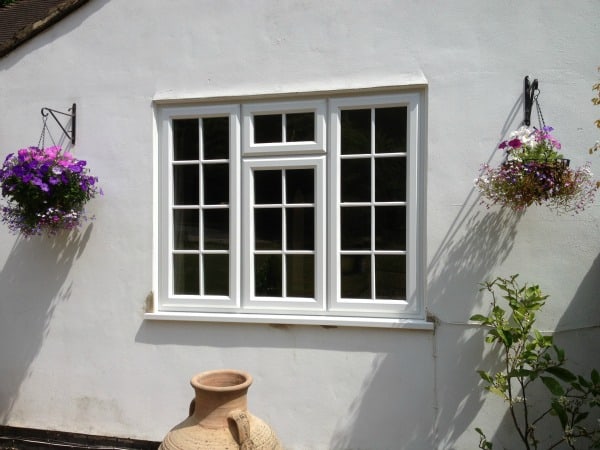 Our customer had three single glazed, timber windows which were draughty and thermally inefficient.
He was refurbishing the inside of the property so it was a good time to replace the external windows with more modern uPVC window units.
We supplied and installed energy-efficient double glazing – three white Swiftframe profile, uPVC windows with bevelled framing and beading.
The double glazed windows had dummy casements for equal sight lines, 18mm white internal Georgian Bars and 4,000 trickle vents in the casements for background ventilation.