Our customer had an internal timber staircase and she was concerned about her young granddaughter falling through the large gaps.
So she had a local joiner remove the central horizontal bars throughout the staircase and employed a painter to paint it white.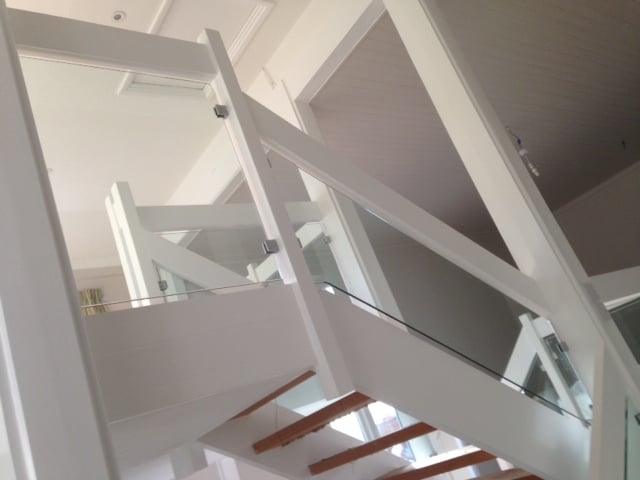 We then installed 10mm clear toughened glass with polished edges into the brushed silver colour square balustrade clamps making the staircase very safe.
It also creates a really attractive feature staircase in her home.
The existing windows and doors in the customer's kitchen extension were timber. They weren't rotten but were difficult to operate and were very draughty.
Our customer wanted reliable, low maintenance, secure double glazing which matched with the existing timber stained finish and so they chose the Rosewood colour uPVC externally and the Cedarwood uPVC internally.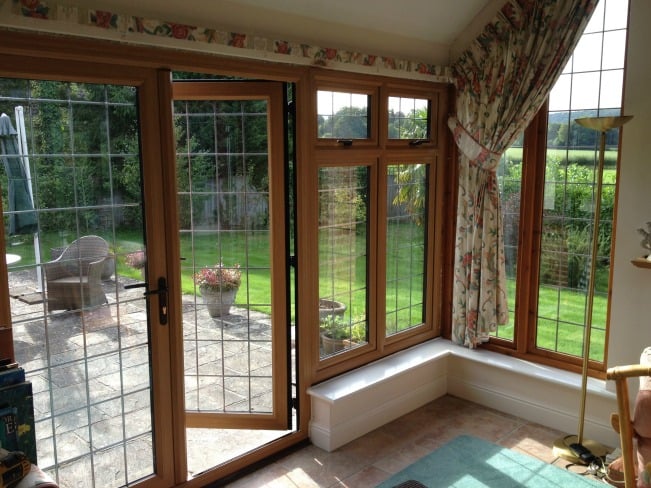 We supplied and fitted an A-rated double glazed uPVC window together with a pair of French doors – all Liniar profile, Rosewood outside, Cedarwood inside and with 9mm oval rectangular leaded lights to match the existing layout.
The customer wanted an additional porch frame installed at the front of their period property in Cobham in Surrey, to create a practical porch area at the entrance area.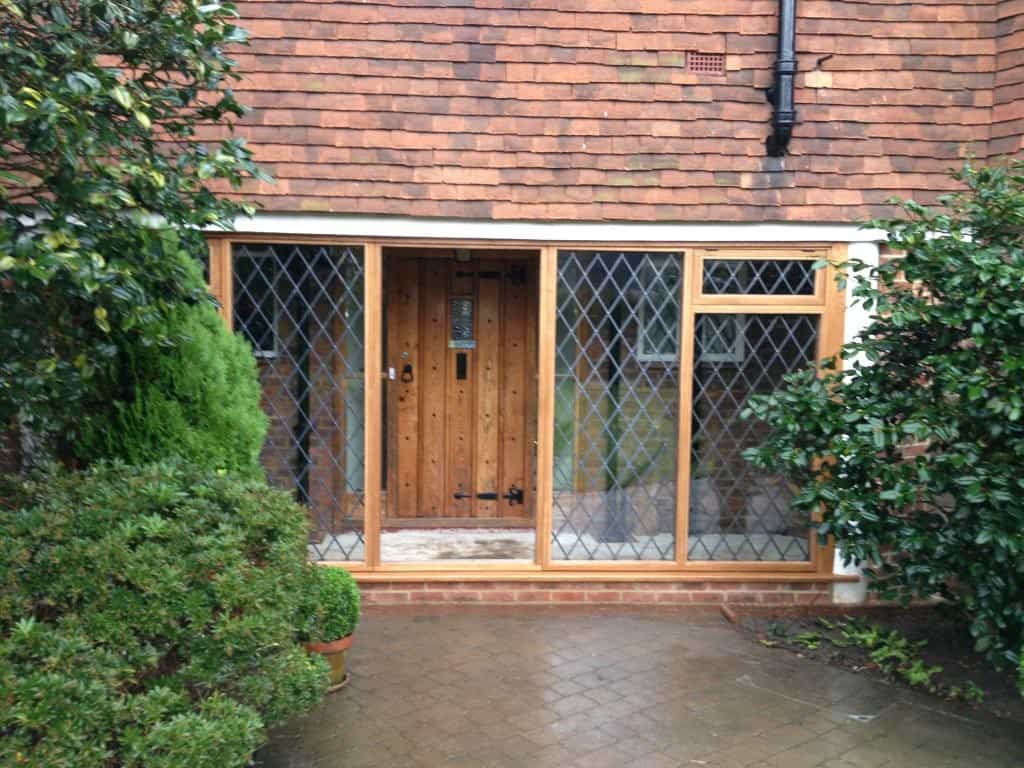 The porch had to be in keeping with the older property so we fitted 90mm thick European solid Oak frames with a pencil edge moulding.
The frame was fitted with clear toughened, energy-saving glass with attractive period style, diamond leaded lights.
Our customer who lives in Newdigate, Surrey had a new extension built which went over an old well and they wanted to make more of a feature of it.
They had exposed the brick edges inside and installed lights to illuminate it but it needed to be made safe to walk over!
So we supplied 3 x 10mm clear toughened glass with polished edges laminated together to create 1 piece of glass 33mm thick which was safe to walk over.
The glass was glazed into a steel frame with foam tape for cushioning and then sealed using clear silicone.
I'll think you agree, the finished effect is rather impressive. The customer was delighted with it too.
The existing shopfront was made of timber. The shop was being refurbished and the landlord wanted a low maintenance product which was thermally more efficient.
We installed white powder-coated aluminium frames which were double glazed with clear laminated glass for security. The inner pane of glass had a softcote Low-E coating and the cavity was argon filled for thermal efficiency.
Bifolding doors are 'in'! Originally designed as internal doors for use in confined spaces, such as closets and laundry rooms, as homeowners and property developers endeavoured to make the most of all available space, bifolding doors have now found their place as a modern exterior door option.
Get more connected to your wonderful outdoor space
Bifolding doors are the perfect solution if you're looking to open up your living space and make it feel more connected to your garden or patio, which makes them well worth considering if you're planning an extension or wanting to make better use of the space you have.
The flexibility of bifolding doors gives a real advantage over standard doors too. They can be fully opened, partially opened, or kept completely closed, giving you greater control over how much additional space you want to create. And because of the amount of glazing – rather than the solid wall – you can achieve a much more visually appealing result because the view onto your garden will become much bigger.
Even when the doors are shut on a cold day, you won't feel shut off from the outside.
Then there's the extra natural light that will flow into the room, something that can make all the difference to a small space – the simple choice of bifolding doors can easily create a wonderfully airy environment.

A flexible and practical door solution…
Of course, some people will always argue that sliding doors are better because of the large expanse of glazing in relation to the frame. Yes, they do have the advantage of creating an unbroken view of the outside, but that's about it – and it's a limited view.
Sliding doors will only open to less than half of the overall width and they simply do not offer the same versatility as bifolding doors. If you can form two sides of an extension with fully opening bifolding doors, then the frames become a small compromise.
The beauty of bifolding doors is that you can pretty much choose what you want according to the available space. They are generally designed so that there is one main traffic door opening outwards, with all doors folding back one way or, with wider door combinations, two hinged doors split centrally which fold back each way, but there are many possible permutations!
Durability isn't an issue. Exterior bifolding doors are manufactured to high-quality standards and must comply with regulations for insulation, safety and security and weather ratings so you can be assured that leaks and draughts won't be an issue.
Dorking Glass install the 'Schuco' profile, acknowledged within the industry as being one of the highest quality aluminium bifolding door systems available. Each door leaf can be manufactured up to 1200mm wide and 3000mm tall, which is just not possible with other systems.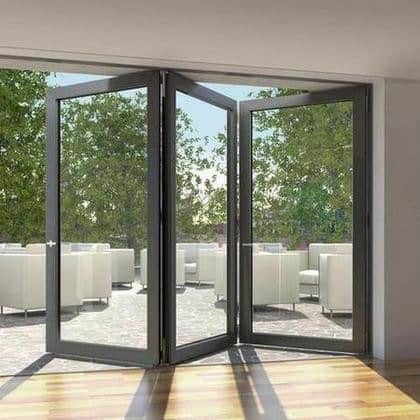 The perfect option no matter what colour you are after!
There are also plenty of colours to choose from – the doors can be powder-coated to any standard RAL colour, so whatever the style of your room there will be a set of bifolding doors to suit.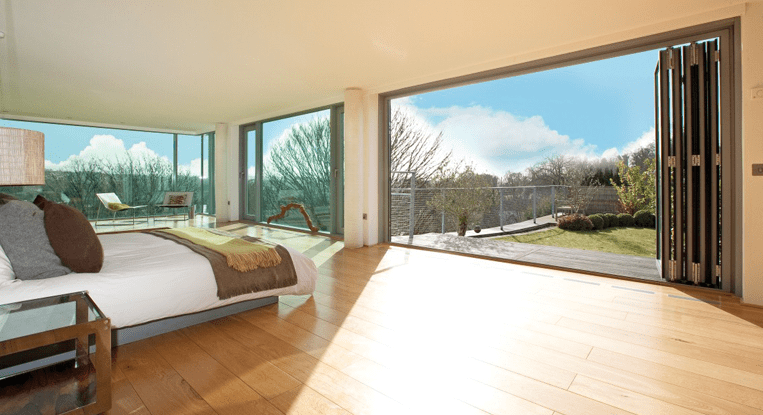 If you're planning home improvements or an extension to your property and would like to find out more about how bifolding doors might work for you, contact Dorking Glass and we'll be happy to discuss the options with you.
The existing window was single glazed timber and was cold and draughty. We had been replacing all the windows with new uPVC double glazing over the last few years and this was the last window to be changed.
The house now benefits from energy-efficient and more secure double glazing on all of its windows.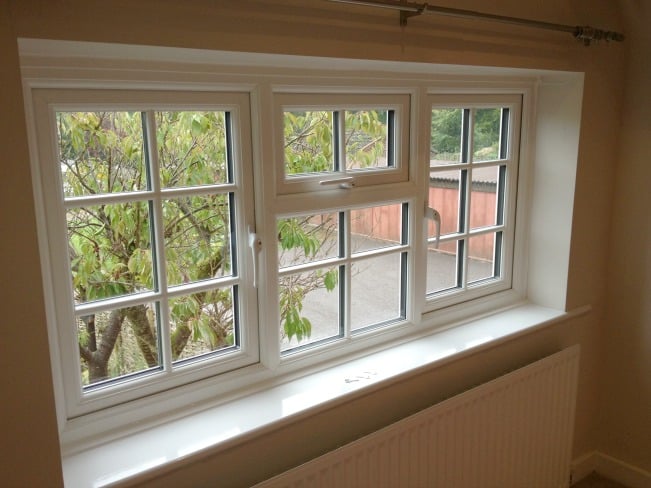 The customer had chosen white uPVC Liniar profile windows with surface mounted Georgian bars in keeping with the style of property and the other windows that had also been replaced.